Concetti projects and designs bagging plants, including bagging machines, palletizers and depalletizers. Learn more about the various types of machines available, the features of the models, and their advantages.
Concetti manufactures bagging plants since 1975, serving hundreds of industries worldwide. Our bagging and packaging machines are designed to meet different needs: each is suitable for bagging different kinds of products, from food flours to supplies for the construction industry. Let's see what equipment is essential for a bagging plant and what solutions Concetti can offer.
What does a bagging plant include?
A bagging plant means machinery, appliances, or other similar devices that are assembled in such a manner so as to be able to bag and pack different kinds of products. Bagging plant equipment includes different types of end-to-end machines for bagging free, medium free and non free flowing product, covering from weighing to bagging and palletizing.
The plant can be completed with integrated end-of-line equipment such as pallet stretch hooding and wrapping systems. End-of-line equipment ensure the best possible support and protection for storage and transport over thousands of kilometers.
Concetti offers complete lines for this purpose that include:
Do you need a free consultation?
Form, Fill and Seal bagging plant
Concetti represent an international supplier in the design and installation of bagging plant equipment, including horizontal systems for forming, filling and sealing bags. The automatic Form, Fill and Seal bagging machines' main applications are in the petrochemical, fertilizer, and cement product fields.
Advantages
Concetti's FFS systems for bagging plants feature long production cycles and sustained high speeds to facilitate your bagging plant's production. Moreover, FFS technology guarantees resistant and sustainable packaging.
Available models
Open-Mouth bags bagging plant
Concetti's bag packing equipment for bagging plants include bagging machines for various types and formats of pre-made open-mouth bags. Our machines are completely automatic format change systems and are used in packaging almost every type of bulk, solid product.
Advantages
Open-mouth bagging machines are suitable for any bagging plant thanks to their automatic, fully flexible systems and are set apart by their reliability, resistance, and versatility.
Available models
Bulk Bag filling plant
Concetti bagging plant equipment includes bulk bagging systems and is suitable for every product line: powders, pellets, chemicals, and cement products: the way in which the product is bagged (by gravity, belt, or screw) depends on product characteristics. An automatic large bag filling machine can belong to two different categories:
Gross Weighing Systems handling different formats guaranteeing great versatility.
Net Weighing Systems - These kinds of machines are suitable both for FIBCs of various sizes and for boxes or other types of containers (octabins).
Advantages
Our bulk bag filling bagging plant equipment stands for its high precision, top strength, and flexibility. Concetti creates high-quality solutions for filling bulk bags for the U.S. market and internationally.
Available models
Palletizing systems
Concetti offers a wide range of palletizers - robotic, robotic arm, bag-in-box, and push-types - which perform in different ways. You can choose among different machines, depending on your speed requirements and material to bag.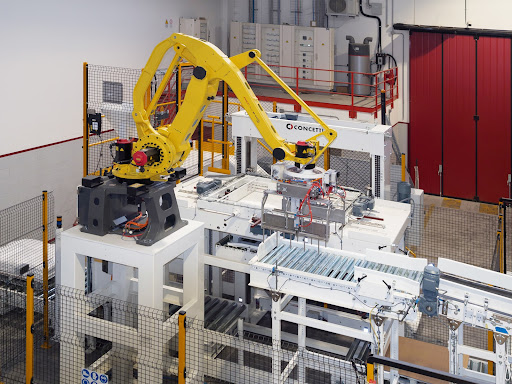 Advantages
Our palletizing bagging plant equipment is an extremely flexible and compact solution that ensures the production of stable, secure, and geometrically perfect pallets for every type of bag. All tools are designed to ensure safety of goods and, more importantly, of humans.
Available models
Concetti, bagging plants supplier in the U.S.
Concetti is committed to customer satisfaction in supplying bagging plant equipment for every need. Our line of products ranges from bagging, conveying, and palletizing, to complete lines for bagging a large variety of products.
We've designed, engineered, and built automated packaging machines since 1975 and we are now a reliable partner for the U.S. market with our Concetti North America division: we can provide the machine or complete turnkey system you need to increase productivity.
Want more information about our bagging plant equipment?