Pellet bagging machine
The pellet bagging machines made in Italy by Concetti are Form-Fill-Seal (FFS-E) baggers using a tubular PE reel and provide technologically advanced solutions for bagging and palletizing biomass fuels, through the implementation of automatic packaging lines and systems tailored to customer needs.
The main advantages of Concetti's pellet bagging machine
The main characteristics of Form Fill Seal Baggers, include:
Very high capacity outputs, over 1800 bags/hour;
Safe, stable, reliable and above all fast;
Monobloc with easy access for cleaning & inspection;
Clean workplace free of spillage.
Environmentally friendly bagging solution
Bagging lines for wood pellets can comprise one or more Form-Fill- Seal baggers from a tubular PE reel combined with multi-bag pick & place or conventional layer palletizers, depending on the space available and the requests of the customer.
The FFS-E is equipped with three operating stations: one for the bag bottom formation and the film cutting based on the desired bag length, the second for the filling cycle and the third for bag top sealing. A corner-welding feature produces bags that are squarer, better for palletizing and more capacious.
Concetti also provides open-mouth pellet bagging machines for pre-packed sacks. In a recent application with a strong sustainable footprint, the company supplied a plain sewing paper bagging IGF for pine pellets.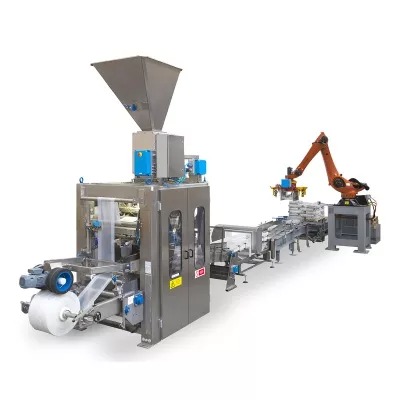 Why Concetti is a leader in the US as a supplier of pellet bagging machines
Concetti supplies pellet bagging machines and has established itself as a reliable partner in the United States.Thanks to the versatility of its machines and the high specialization of its technical engineers and operators, Concetti can advise you on the best solution for bagging your pellet products and provide bagging machines that complement your production line. Our technicians are always ready to respond on-site or remotely throughout the United States.
Environmentally friendly bagging solution
Concetti has always been an environmentally friendly company. Machinery is reliable, sturdy and handles the product gently to reduce the production of powders. More importantly, it guarantees a resistant, easily transportable, recyclable paper bag with good closure properties. Choosing open-mouth, paper bagging technology instead of the typical heat-sealed plastic tubular reel, was a counter trend strategy which, today with the new European packaging regulations and the growing focus on the environment, becomes even more of an inspired move by the company.


Want to have more specifics about our pellet bagging machine?