Volteco Italia, a specialist manufacturer of above and below ground waterproofing solutions for the construction industry have installed a complete Concetti bag filling and palletising line at their Ponzano Veneto plant near Treviso, Italy. Volteco's product range covers a system of rigid panels but also includes many highly specialised, cement based waterproofing premixes including coatings, renderings and repair concretes. However, even waterproofing premixes must be kept dry before use.
So, the new line takes advantage of the latest developments in PE film technology coupled with Concetti's advanced tubular Form, Fill Seal systems to package these cementitious premixes in water resistant, clean, secure bags that can release excess air but still safely be stored outside without detriment to the product. The secret is in the particular design of micro perforations built into the inner ply of an overlapped seam produced during the tubular film's manufacture. Air is allowed to escape slowly through the overlapped seam and out via small vents automatically created during the forming and sealing operations.
The new line replaces a conventional vertical FFS machine using single wound film with ordinary micro perforations. Volteco clearly recognised the traditional benefits of PE film, the lower cost, better branding opportunities and easier recycling of the empty bags compared to multi-wall paper but unfortunately these benefits were being offset by some serious disadvantages on the existing system.
Vertical FFS machines are often problematic when operating on fine powders because contamination of the seal area causes frequent seal failures and subsequent spillage both at the manufacturing stage and throughout the product's life. The simple micro perforation system allows dust and air to escape and moisture to enter, even with correctly sealed bags. Dry, covered storage is essential if consequent product degradation and loss is to be avoided.
The new Concetti line overcomes these drawbacks. The Continua tubular FFS system combined with innovations in film technology keeps all of the traditional benefits of PE film, but adds cleaner packs, more secure sealing and vastly superior protection against moisture ingress, a crucial factor for any cement based material and one designed to appeal to manufacturer, wholesaler, retailer and user alike. Being able to store outside saves warehousing costs and cuts waste from product degradation right up to the moment of use. Volteco will be the first Italian company to install this type of Concetti technology on cement premixes.
Concetti, based near Perugia in Italy, has a long experience in manufacturing complete filling lines including tubular form, fill and seal machines. The growing demand for machines that can take real advantage of the latest PE films, particularly for cement based products, has led to further development of the well known Continua range. The Ponzano Veneto plant will use the extended six-station variant that allows extra deaeration systems to be added specifically to handle fine powders and powder based products.
The dosing and filling system (photo courtesy of Volteco) is flexible enough to handle the required range of products with pack weights of 15-25Kg, film widths between 290-400mm and bag lengths between 460-840mm without change parts or spanner adjustments. Output depends on the product handled but is between 360 and 500 bags/hr. Product dosing is by screw feeder with hardened wear surfaces feeding a net weigher. To avoid contamination when changing products, interlocked inspection doors are fitted together with a novel cleaning system for the screw. This is reversible to discharge any residue left at the end of a production run via a rear flap and chute into a waiting container at ground level. Air jets then clean the internal screw surfaces. This minimises downtime between changeovers and is a key part of the Concetti philosophy to provide flexible packaging systems able to switch rapidly from one product to another without contamination and with as little manual intervention as possible.
The Continua has six stations through which the bag passes and each for a specific task. Firstly to form a bag of the correct length from the reel of tubular film and seal the bottom. A second station fills the bag with a pre-weighed quantity of product and applies the first stage of deaeration. The filled bag is moved to a third station where bottom vibration settles the product. A fourth station applies further deaeration and the fifth station cleans the seal area with a blast of air before closing the pack by powerful heat-sealing jaws. The last station cools the seal to ensure its integrity before the bag is released to undergo a final check that the seal is good with no leakage detected.
During the sealing operation it is also possible to apply a partial vacuum to remove any remaining excess air between the top of the product and the seal and so provide a firm, compact, well-shaped bag that can safely be palletised. Changes in bag length are made automatically under programme control using servomotors on the machine.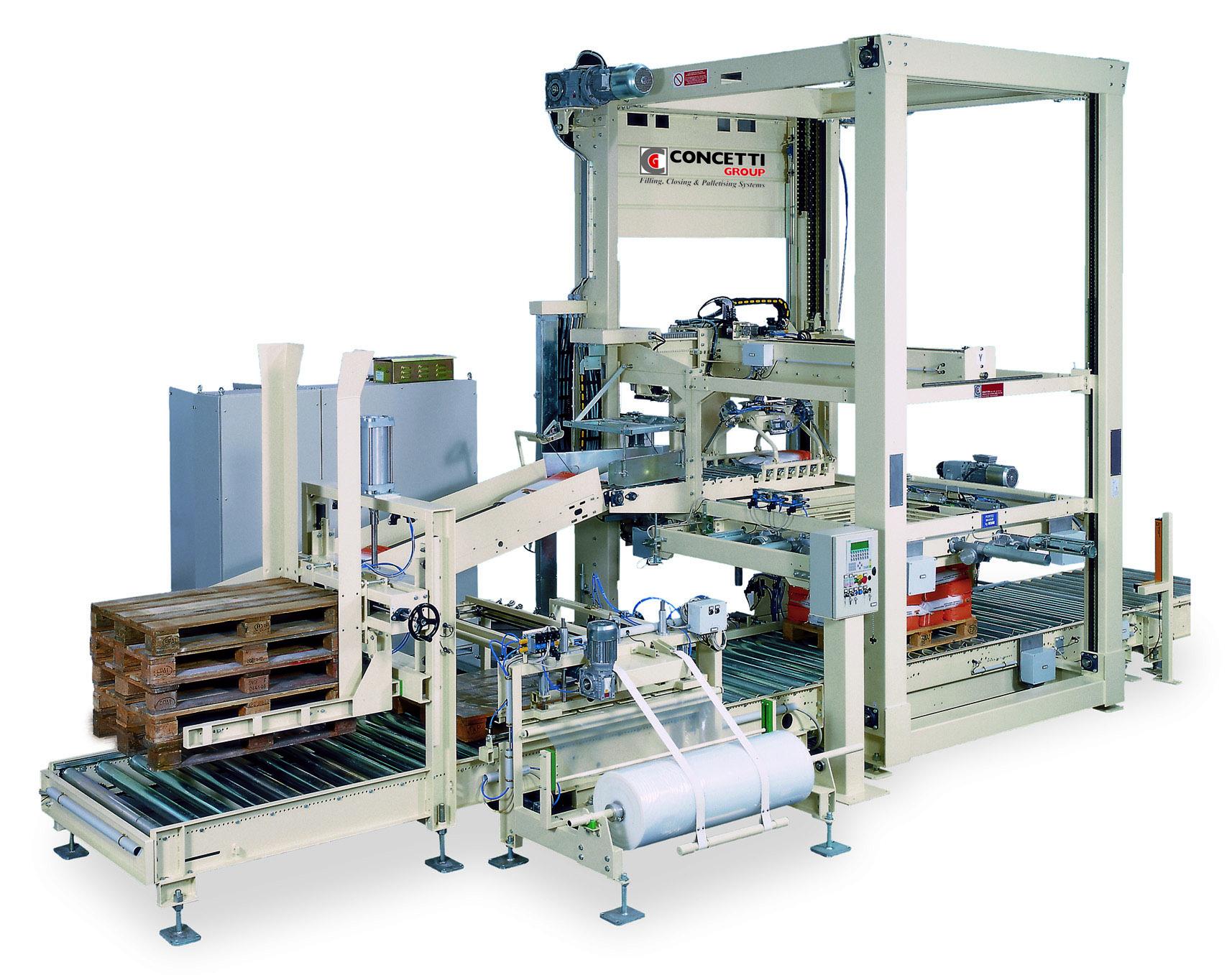 From the Continua, belt conveyors transfer bags through a short pressing operation to a Concetti "PS-3A four column" robot palletiser equipped with empty pallet dispenser, PE film bottom sheet dispenser and automatic pallet squaring. Bags are centred on entry to the palletiser by guides, which are adjusted automatically for different bag widths whenever the programme changes. Unlike single column machines, the PS-3A palletiser has motorised layer conforming plates operating under programme control and positioned according to the layer size. A stripper plate avoids any loss of output during pallet exchange cycles and provides top compression of individual layers. The result is a highly flexible machine that delivers neat, square pallets every time. A stretch hooder supplied by the customer completes the line.
The entire system is intended to be easy to clean and operate. Concetti's use of servomotors to replace manual adjustments allows changes to product and bag size to be made simply by changing programme. Each product has a unique programme number and each programme is a list of the variable parameters that need to be changed to accommodate different bag sizes and weights. A network links the PLCs and the weight controller and allows settings for the entire line to be changed from one operator terminal simply by selecting a new programme number.
Not only does this flexibility mean the line is quickly set up for new products, it also avoids operator set-up errors. Crucial decisions that affect the line's operation are outwith the operator's control. Concetti say that after clean down, this changeover can be completed, ready to run in under 90 seconds and represents the perfect use of digital technology to simplify complexity and make the line as easy to manage as possible as well as reliable and efficient. Only the film then needs to be changed before the line is restarted and usually, just one operator per shift is enough.
Concetti have the added advantage of manufacturing every element of the dosing, filling and palletising system in their own factory where the integration is made and the complete system is tested under simulated site conditions using the customer's own materials, PE film reels and pallets before shipment. This ensures the end user is satisfied with the performance before receiving the equipment and that when reassembled on site, commissioning and start-up is quick and trouble free.
The superiority of tubular FFS systems is shown once again. Coupled with the latest PE films and Concetti's wide experience in these cement based applications, the result is a low cost, secure, clean, colourful and well presented pack able to withstand outside storage in all weathers without diminishing either the quality or performance when it comes to be used. These new FFS systems will appeal to cementitious premix producers who are increasingly bringing new products to world markets for specialised uses in building and construction.
Article edited by Worldcement, 2017