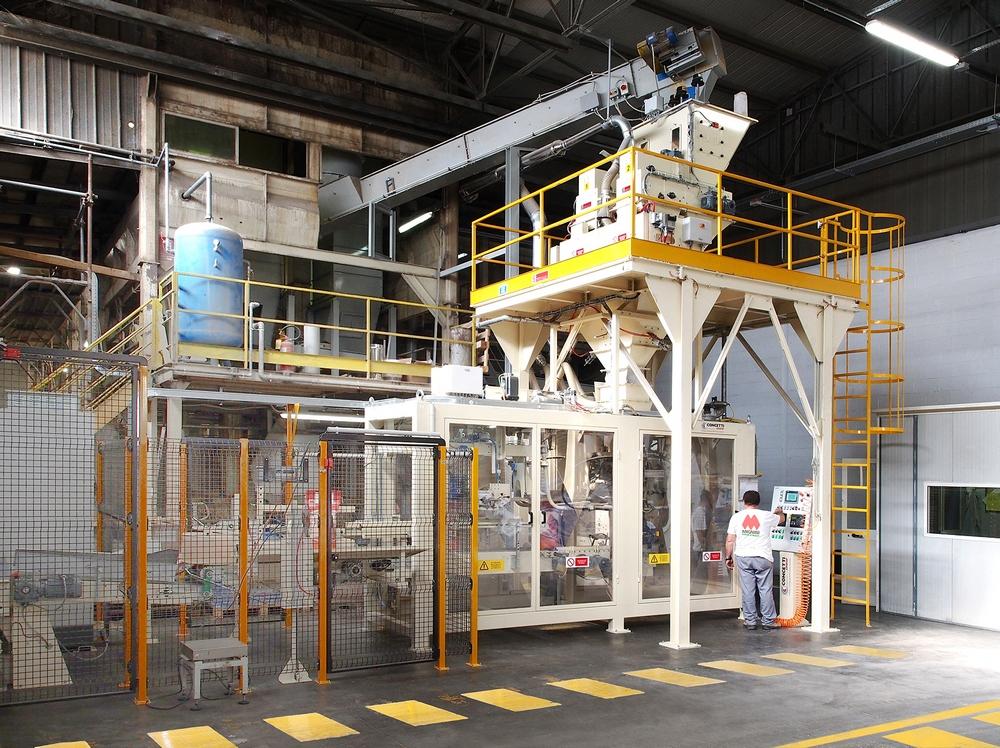 Concetti S.P.A, Bastia Umbra, Italy, has supplied two full line bagging lines for animal feed to Mignini&Petrini, an established famous name in the Italian food industry.
The main requirement for Mignini&Petrini in the modernisation of its packaging plants is to be increasingly competitive in the stockfeed market, not only providing retailers with improved packaging but also giving the end user higher quality products whilst paying special attention to the environment with a reduced use of plastics.
Concetti S.p.A has supplied the most innovative, efficient and cutting edge technologies available. Two fully automatic turnkey lines each consisting of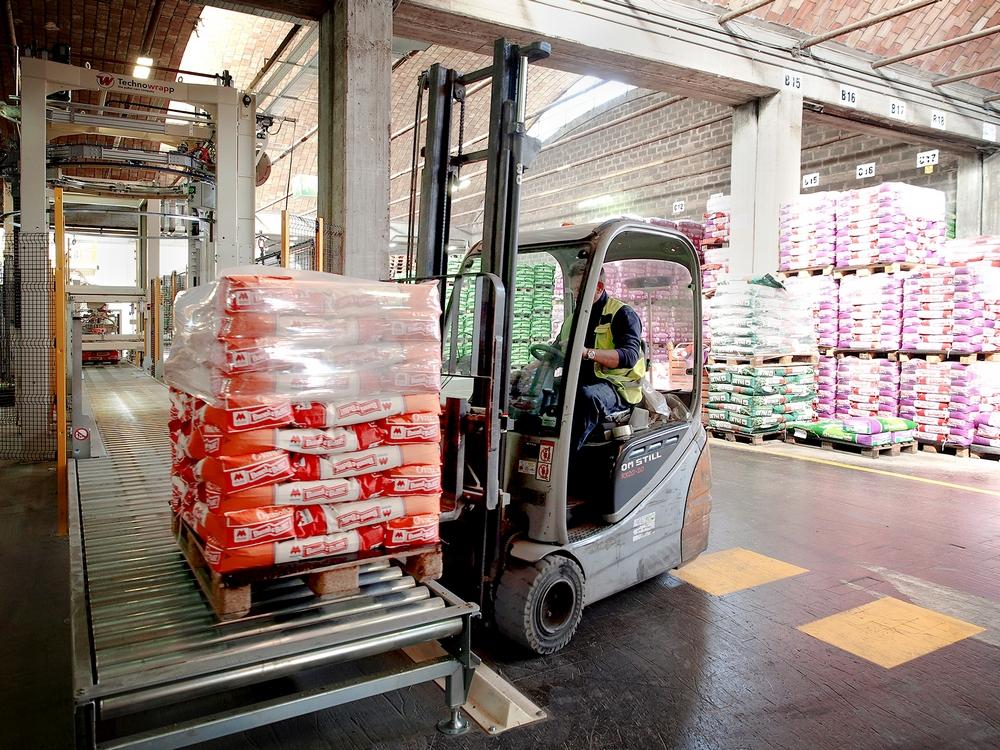 duplex "high precision" belt fed net weighers, bag filling machines model "IGF 1200", our four column robot palletising machine featuring bag pick, place, layer squaring and compression, and innovative ring type, power pre-stretch wrapper to wrap pallets in a more sustainable way with minimal film.
This type of high speed line, characterised with the ultimate flexibility, is the Concetti flagship feature, enabling customers to easily package – with just one plant – different kinds of animal feeds ranging from powders to cubes, as well as ground, flat, flaky and laminated products.
The capacity of the bagging machine is up to 1,200 bag/h when handling free flowing products in 25 kg bags. Stoppage time between products is reduced to a minimum by the Concetti fully automatic changeover feature taking just 60 seconds from the HMI keyboard.
The neat, square shape of the finished pallets are a result of the layer squaring and compression feature of the Concetti four-column palletiser that guarantees this packaging system remains one step ahead.
Info: salesitaly.com
---
Mignini&Petrini, storico marchio dell'industria mangimistica italiana, raddoppia. L'azienda si doterà di due nuove linee veloci completamente automatiche per il confezionamento dei mangimi per animali da reddito, progettate e fornite da Concetti S.P.A di Bastia Umbra. L'esigenza della Mignini&Petrini era quella di modernizzare gli impianti di confezionamento per essere sempre più competitiva sul mercato dell'alimentazione animale, garantendo ai propri rivenditori una confezione sempre migliore e al cliente finale un prodotto di qualità superiore, con un'attenzione speciale alla sostenibilità ambientale grazie all'impegno nella riduzione dell'utilizzo della plastica.
Concetti S.P.A, azienda produttrice da oltre 40 anni di impianti di pesatura, insacco e pallettizzazione per mangimi e petfood, tutti conformi al pacchetto di incentivi "Industria 4.0", ha messo a disposizione dell'industria umbra, le tecnologie più innovative ed efficienti disponibili nel settore della mangimistica. Si tratta di due sistemi "chiavi in mano" completamente automatici di quasi trenta metri di sviluppo ciascuno, composti da doppia bilancia a peso netto ad alta precisione con sistema di alimentazione a nastro, insaccatrice per sacchi a bocca aperta della serie "IGF 1200", palettizzatore robotizzato "a quattro colonne" e un innovativo fine linea per avvolgere le palette in maniera più sostenibile.
Questa tipologia di linea veloce è caratterizzata da una grande flessibilità, marchio di fabbrica di Concetti, che permette al cliente di gestire agilmente, con un solo impianto, tutti i diversi tipi di mangime per animali da reddito, dalle farine ai cubettati, passando per sbriciolati, schiacchiati, fioccati e laminati. I tempi di fermo macchina sono ridotti al minimo, grazie al cambio di formato completamente automatico che avviene in appena 60 secondi dal pannello di controllo.
La capacità produttiva dell'insaccatrice raggiunge i 1200 sacchi all'ora con i prodotti più scorrevoli in confezioni da 25 kg. Punto di forza dell'impianto è, infine, il pallettizzatore a quattro colonne, testa di serie della gamma robotizzata Concetti, dotato di una pinza che si muove lungo tre assi cartesiani e nel contempo ruota attorno al proprio asse verticale. Una macchina affascinante e robusta dall'elevata flessibilità che permette di manipolare sacchi con prodotti diversi e differenti livelli di riempimento, con la possibilità di ottenere anche la parziale sovrapposizione dei sacchi, conferendo grande stabilità al carico.