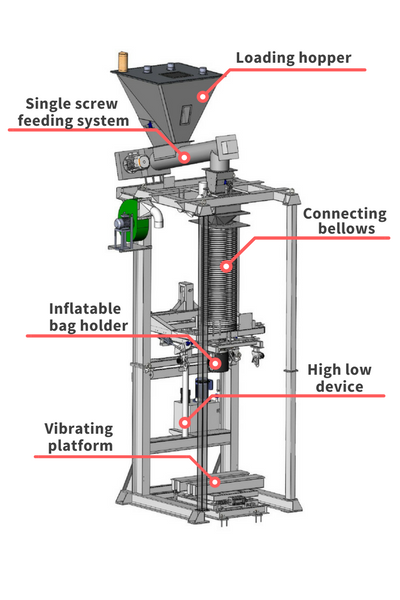 For many users, FIBCs (Flexible Intermediate Bulk Containers) represent a convenient method of handling and transporting a huge variety of different products from cereals to cement and plastic pellets to chemical powders. Every year millions of tonnes of products are transported in these highly cost effective containers with a capacity, usually between 500kg and 2000kg. Concetti in Perugia, Italy has a wide range of products for filling these FIBCs from simple gross weighing systems for applications around 20 big bags per hour.

From the feeding devices developed over many years to cope with different products to the expertise in dynamic weighing and pallet handling, Concetti has both the experience and resources to provide FIBC filling systems that are reliable as well as easy and safe to use. The entry-level machine is the simplex gross weigher where bag and product are weighed together. Depending on the product characteristics, be it granular free flowing, a fine powder or coarse and lumpy, the feeding system will employ a gravity, screw or belt type feed device.
Working Principles

The FIBC (or big bag) is loaded by hand and unloaded directly by pallet and forklift truck. Various features can be fitted depending on the type of FIBC, also known as bulk bag, used and these include inflatable bag holder, fan driven inflation systems, devices to assist the operator in attaching and automatically releasing the FIBC loops and so on. To this basic unit can be added conveying systems to allow the palletised FIBC to be moved to a convenient position after filling. Weighing is by precision load cells integrated into the frame and a controller allowing different set points to be programmed as required. If required an empty pallet dispenser is supplied. Outputs up to about 30 FIBCs per hour can be achieved with gross weighing.
For higher speeds up to 60 FIBCs per hour, net weighing is the answer with the weighment being dosed at the same time as the FIBC is being attached to the filling spout and loop supports by the operator. Again, the feeding device is properly matched to the product.
Of course, this product range, comprehensive as it is, does not truly demonstrate the innovative Concetti approach to every project and the way systems are adapted to the final user's precise needs. Examples of this are many and varied but perhaps here we can consider just a few.
Case studies
A customer with a particular material wanted to seal the FIBC automatically for operator safety and transport security so Concetti supplied a strapping system, integrated into the spout so that after filling, the neck of the internal liner was closed tightly with no operator action and sealed to prevent any escape of dust.
In another case, the client wanted to have up to three FIBCs stacked or overlaid on the same pallet to reduce handling operations and Concetti were happy to provide a system that allowed this to be done easily and safely.
Fine powders like cement, present particular difficulties when they are highly aerated during and after filling, potentially giving a highly unstable load. This usually limits the overall output while the powder naturally deaerates until the FIBC can be safely moved. To overcome this problem and to achieve speeds of 25 x 1500Kg FIBCs per hour on cement, Concetti designed a system to provide continuous support for the loops both at the filling point and during transfer to a second deaeration position where additional vibration helps to compact the load, quickly allowing the FIBC to be transported by forklift in complete safety without reducing output.
Concetti's growing reputation for quality and excellence in bulk materials handling is built on the ability to innovate, to constantly improve quality and reliability and to offer the highest level of world-wide customer service both before and after sale using a hot-line and PLC teleservice by modem.