The benefit of using PE film for cement packing is becoming ever more widely recognised. The cost is lower compared to paper valve sacks and the waste packaging much easier to dispose of, but more importantly the product is better protected against moisture and the end user reduces product wasted in storage or on site. All this makes PE film the material of choice particularly for premium grade and specialist products.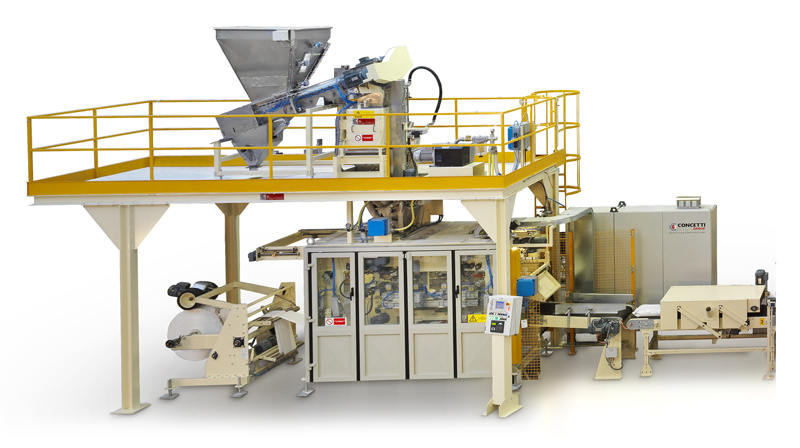 The new system from Concetti provides a completely sealed bag using plain LLDPE film without any micro perforations to both preserve the product quality and extend the shelf life, with outputs from 400 to 800 bags/hr depending on product and pack weights in the range 10 to 25Kg.
Using form, fill and seal (FFS) machines for fine powders can sometimes be difficult for several reasons. A fine powder does not release air trapped during the filling cycle like a coarse granular material might. Unless most of this air is removed from the sealed bag palletising will be troublesome and in extreme cases, impossible. Removing the air is usually achieved by micro perforating the film either directly or through a labyrinth arrangement so air is released slowly after filling and sealing. Unfortunately this can also allow moisture ingress over time.
For cement and premix manufactured as a fine powder intended for mixing with water on site, any moisture ingress in storage is obviously extremely unwelcome.
Concetti have long experience with these fine powders on their Continua FFS machines and already had a system for evacuating air from bags without micro perforations and so, only some small additional development were needed to increase the output speed. The new unit is a linear FFS now with six stations.
Product is dosed gravimetrically using an abrasion resistant two-speed screw feeder into a net weigher. The screw can be fitted with an automated air blast system to clean the screw flights between products where necessary and a rear outlet allows any residue to be discharged into a container with the screw running in reverse.
A dust tight filling spout allows the bag to be filled and deaeration probes carry out the first stage of air removal from the filled bag. The bag is closed and indexed to two additional stations both equipped with vibration to assist in further settling of the product before closing. Station number five also has a device for partial evacuation of any remaining air. Once the air is evacuated, the bag top is cleaned and heat applied to give a hermetically sealed pack.
Sack mouth cleaning prior to sealing is vital to ensure reliable closing. Concetti can also offer a feature where the bag top is double sealed to further ensure security of the closure.
Finally, on station six the bag top is cooled to increase the seal strength before the filled bag is released. An adjustable bag flattener on the downstream conveying line presses the bag to give a more compact and consistent shape. The result is a completely sealed, well shaped bag without excessive air trapped inside that can be easily and confidently palletised.