CONCETTI INTRODUCE A NEW GENERATION OF MULTIFUNCTION MACHINES FOR BAGS, CARTONS AND SHELF READY PACKS
The Concetti Group is a leading supplier of turn-key bagging and palletising lines for the pet food industry worldwide. Latest developments in the palletising field include a system with both robotic and conventional palletising for cartons, shelf ready packs and paper or PE bags, including an innovative bag-in-box facility.
Many dry pet food producers serve demanding markets and provide an extremely wide range of products for dogs and cats in many different sizes and formats to suit the end users. So, flexibility is a key requirement but for this application the range was essentially all in small pack weights, speed was a major factor, particularly in the palletising of bags.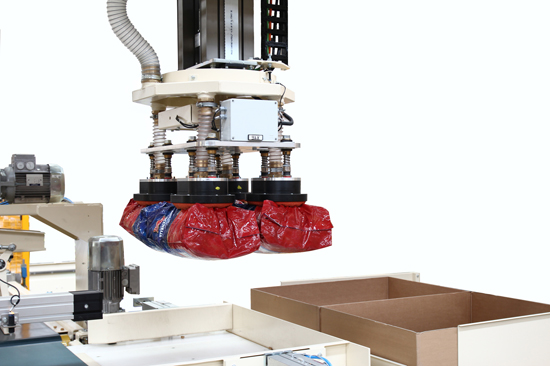 The newly developed system receives products including Shelf Ready Packs from four (4) automatic carton/box filling lines and two (2) automatic vertical FFS machines, all of which were existing. One VFFS machine's output can be diverted via a collation shrink wrapping system to bring several small bags together for ease of handling. Concetti supplied the high level carton and bag conveying systems including an elevator as part of the project.
Empty pallets are stored in one dispensing system capable of holding three different sized pallets including half Euro Pallets. Each dispenser is adjustable to handle any of the pallet sizes and dispense them as requested by the system to any of four different robotic pallet build stations, using a shuttle conveyor. Each robot has two case infeed points and two pallet build positions plus a separate interlayer sheet magazine with two different sheet sizes available. The robots supplied were KUKA type KR180 3200 each equipped with a Concetti designed pick-up tool for multiple packs.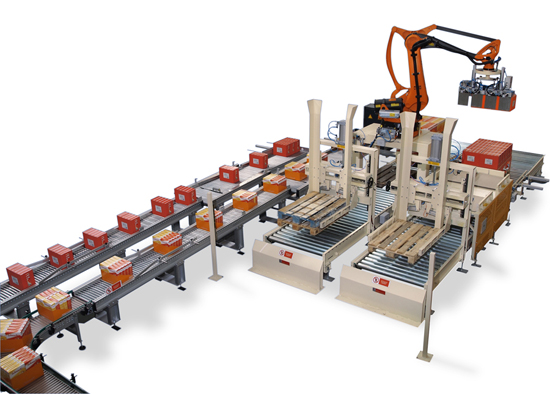 The packs are grouped and oriented to allow the printed data to appear on the outward facing surfaces, before arriving at the pick up point. Packs can be turned upside down to allow the lid to be used as the base for the Shelf Ready system.

The multi-pack pick up head allows the robots to cycle at moderate speeds and handle the cartons gently to avoid product damage and ensure the Shelf Ready Packs reach the retailer in perfect condition. The heads also incorporate vacuum cups for picking and placing interlayer sheets according to the programme. Pallets can be stacked up to 2400mm high.
Bags from one or other of two VFFS machines are handled either individually or as a collation shrink pack, by a Concetti PS-AA conventional layer palletiser. Pack weights are from 3-6Kg and speeds up to 2700 bags/hr depending on pack size and layer pattern. Bag orientation is by a double turning post system. The PS-AA has it's own pallet dispenser adustable for Euro, Half Euro or CP 1 pallet sizes together with bottom sheet dispenser. In a highly innovative development, Concetti incorporated into the design telescopic arms with suction pick-up heads to load boxes into pre-erected corrugated cases for extra protection in transit and storage.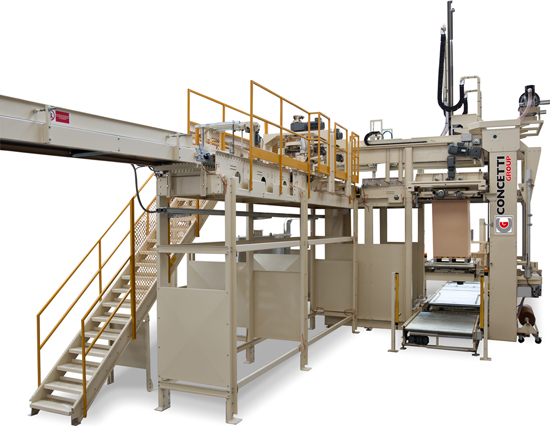 In this way the PS-AA can handle bags separately or collated in shrink film as a convention layer palletiser, or to stack individual bags inside cases on Euro or CP1 pallets. The empty cases are fed manually at present but the system is designed to accept cases from an automatic erector in the future.
Loaded pallets are brought to a single point from the robot build stations and the PS-AA bag palletiser by pallet cross transfer systems and chain conveyor. From this position pallets are conveyed into an automatic stretch wrapper.
Control of the system is by preset programmes created, edited and managed by Concetti's easy to use Touch Screen system. The great majority of the project used standard Concetti components and systems but brought together in an imaginative way with the customer's close support to provide a system that is reliable, flexible, easy to use and maintain. The user has the widest possible choice of packaging and palletising methods to satisfy the most demanding clients
The entire system was as is usual in the Concetti philosophy, built and tested at the factory before shipment to give the customer the assurance of a rapid and trouble free start-up on site.