Concetti provides highly adaptable and space-efficient automated palletizer systems that guarantee the production of reliable, safe, and precisely shaped pallets suitable for any bag type. In fact, Concetti offers an extensive selection of palletizers, including robotic, robotic arm, bag-in-box, and push-type variants, each operating in distinct ways. Among them, our most popular model is the four-column palletizer, renowned for its exceptional flexibility. Concetti can deliver all available palletizing solutions in the market, catering to various speeds and meeting diverse requirements.
In this article:
Concetti best seller automated palletizer system: the four-column palletizer
The four-column automated palletizer system is the best seller in the United States and has a programmable logic controller (PLC) and actuators that ensure quick and automatic program changes, allowing for flexible handling of various formats and palletizing patterns within seconds. It incorporates a pincer that operates along three Cartesian axes while rotating vertically, enabling easy handling of partially filled or aerated bags, and ensuring exceptional flexibility and pallet load stability. Transport is safer, more sustainable and contributes to a lower Total Cost of Ownership.
The machine consists of a sturdy structure with a vertically sliding frame, a pincer, a bag-infeed roller conveyor, and two sliding trapdoors that serve as the platform for forming layers. The pincer picks up one bag at a time from the roller conveyor and positions it on the platform according to the palletizing program. Once the bag is placed, the pincer returns to its initial position, ready for the next bag. The layer-formation platform allows bags to be positioned in any orientation, ensuring stability and proper shaping of the palletized load, regardless of bag shape, type, fullness, or material composition (such as valve, open-mouth, paper, raffia, PE, etc.).
Other lines of automated palletizers
In addition to Concetti's range of four-column automated palletizer systems, there are several other lines of automated palletizers available in the market. Explore them in the following paragraphs.
High-level palletizer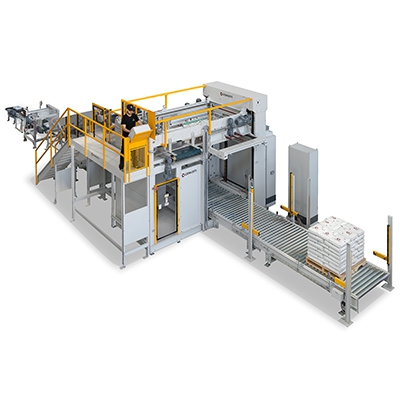 The push-type high-level palletizer is an automated system specifically designed to achieve rapid speeds while maintaining stability for bags with a clearly defined shape. This palletizer consists of a rigid case palletizer positioned at a vertical frame, which will be further described in the subsequent paragraph detailing its functionality.


Low-level palletizer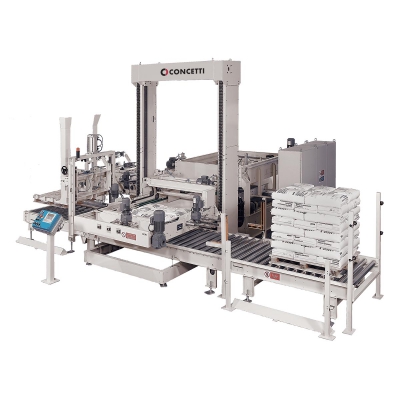 Low-lever automated palletizer systems are suitable for moderate speeds when handling stable bags that possess a distinct and well-defined shape. They are composed of a sturdy structure that incorporates a vertically sliding frame. This frame supports the trapdoor mechanism responsible for unloading the bag layer onto the forming pallet. Low-level automated palletizers can be integrated with existing filling lines, including those that were installed previously.
Robotic arm palletizer
Among Concetti's range of automated palletizer systems, the turn-arm robot palletizer stands out as the swiftest and most adaptable model for precise point-to-point movements. Capable of accommodating bags filled with stable, aerated, or powdery products, this automated palletizer allows for partial overlapping of bags within the layer, both on the top and sides.
Gantry Type
Among the lineup of systems produced by Concetti, the gantry-style robot automated palletizing (also known as portal palletizer) stands out as the most space-efficient model. Distinguished by its robust and condensed structure, and equipped with a robot arm specifically designed to accommodate various gripping devices, it allows the handling of diverse types of sacks, boxes, trays, or bundles. The bag gripping system operates along all four Cartesian axes, facilitating swift pallet stacking while maintaining the utmost precision and repeatability of movements. The portal palletizer from Concetti combines advantages of high level and robot palletizers.
Bag in Box Palletizer
The latest developments in the field of palletization include an automated palletizer system that combines robotized palletization implemented with suction cup-equipped gripping heads with conventional palletization. This allows the system to work with a single machine for handling bags, boxes, and display pallets. The PS-AA palletizer is highly versatile and enables the handling of individual bags or bundled bags.
Lampo
The LAMPO automatic palletizer for bags, bundles, and boxes boasts a range of standout features including exceptional speed, gripper versatility, and load stability. Drawing from our 45 years of industry experience, we have expanded our product lineup to include a high-speed automatic palletizer capable of handling up to 2000 bags/units per hour.
If you need other kinds of machines, you can always check out our comprehensive list of automatic palletizing options.
How does an automatic palletizer work?
An automatic palletizer system is a sophisticated machine designed to efficiently stack products or bags onto pallets without the need for manual intervention. The following is an overview of how an automatic palletizer works:
Bag or product infeed: Bags or products are fed into the palletizer through a conveyor system or another input mechanism. The speed and orientation of the infeed can vary based on the specific design and requirements of the palletizer.
Bag/Product handling: Once the bags/products are in the palletizer, they are typically guided and positioned by various mechanisms such as belts, grippers, or suction cups. These mechanisms ensure precise and controlled movement of the bags/products as they are transferred to the pallet.
Layer formation: The bags/products are arranged in a specific pattern or configuration to form a layer on the pallet. This pattern may be pre-programmed or adjustable based on the desired stacking pattern for optimal stability and space utilization.
Layer stacking: The process of layer formation and pallet transfer is repeated until the desired number of layers is achieved. The palletizer continues to stack the layers one on top of the other until the pallet reaches the desired height.
Pallet removal: Once the pallet is fully loaded, it is ready for removal. Some palletizers may have built-in mechanisms to remove the loaded pallet automatically, while others require manual intervention.
Pallet conveyance: The loaded pallet is typically transferred to a roller conveyor or another transportation system for further processing, such as stretch wrapping or labeling.
Throughout the entire process, an automatic palletizer system is controlled by a programmable logic controller (PLC) or a computerized system. The PLC receives instructions regarding the stacking pattern, layer configuration, and other parameters, ensuring precise and efficient palletizing operations. It's important to note that the specific operation and features of an automatic palletizer can vary depending on the model, and type of products or bags being handled.
Advantages in automatic palletizing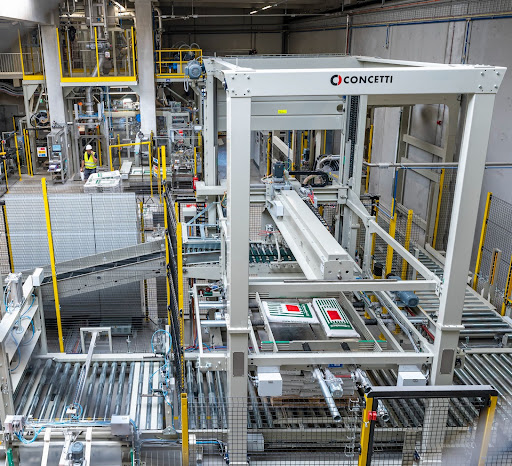 A well-stacked and stable pallet allows the product to reach the destination in the best condition, avoiding the breakage of the bags and loss of product that represent an economic waste and also a risk to the environment. Furthermore, thanks to the safety measures and the certifications, our automated palletizer systems allow a reduction of the risk of accidents with automatic palletizing.
Moreover, we have local technical support and commercial advice based in the US: that means we can visit your factory to define the technical details.
Request now more information about the most suitable palletizer system for your needs.