Concetti provides a wide range of automatic palletizers for every industry. Let's find out more about their features and operation.
An automatic palletizer is a robotic device used to stack and organize products on a pallet. We design and supply automatic palletizers for different industries with specific requirements and characteristics.
In this article, we will explore the following topics:
Palletizing is a procedure to stack bags containing different types of products on pallets. When we talk about automatic palletizing, it means that automated machines allow the movement and transport of goods to the destination area.
Concetti is specialized in the production and marketing of custom-made automatic palletizers that meet the different needs of each industry. Since 1975, in fact, we have been producing automated solutions for every type of packaging and different types of products, from pet food to cereals and loose granules or powders.
The range of Concetti's automatic palletizers is really wide. Depending on the technical features you consider most important, you can choose the model that best suits your needs. Moreover, most Concetti products are customized and made collaborating closely with the customer.
Here is an overview of Concetti's automatic palletizers:
High-level palletizers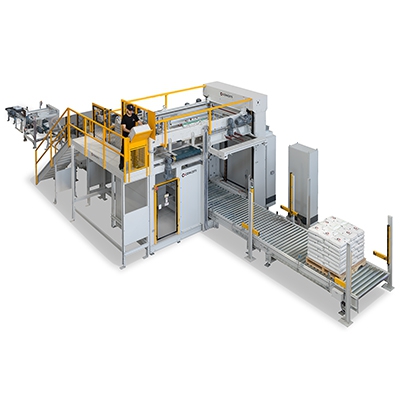 High-level automatic palletizers consist of a rigid structure with a vertical sliding frame that holds the pallet while it is produced. This makes them particularly suitable for stable bags with a well-defined geometry moved at high speed. Since several operations are performed simultaneously, thanks to these automatic palletizers it is possible to achieve more complex high-production capacities.
Low-level palletizers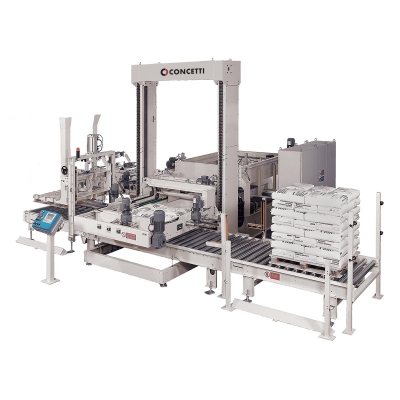 Low-level palletizers are characterized by a rigid structure that moves vertically as a frame and supports a trapdoor mechanism to unload the bags on the pallet. They are suitable for stable bags with a well-defined geometry moved at medium speed. Connecting these palletizers to filling lines – including those already existing – is very easy.
Robotic arm palletizers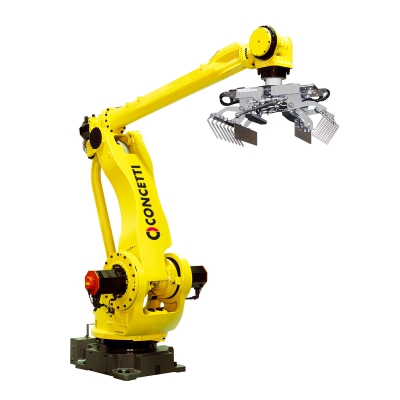 The robot-arm palletizer is able to process bags containing stable, aerated, incoherent products, allowing the partial overlapping of the bags in the layer. It is the fastest and most versatile model for end-to-end handling in the range of robotic palletizers manufactured by Concetti.
Gantry style robot palletizers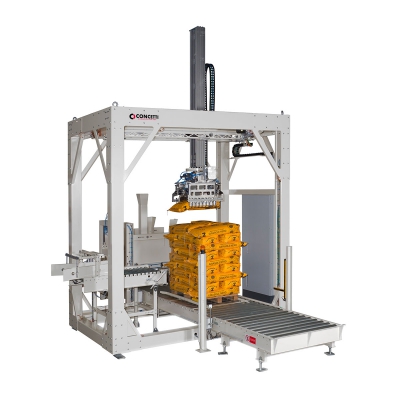 Gantry style palletizing robots are part of robot palletizers. They are compact and space-saving: they can be installed even in relatively small spaces. They are characterized by a strong and compact structure and a robot arm specifically designed for the integration of differing gripping devices. In addition, gantry style palletizing robots allow the handling of any type of bag, cardboard, and bundle.
Four-column palletizers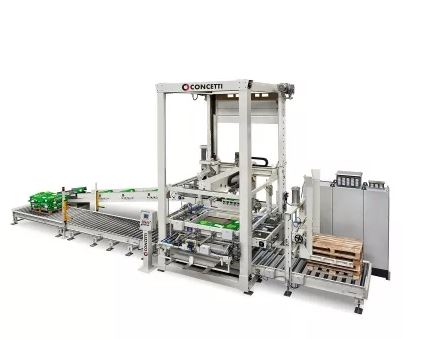 The four-column robotic palletizer is suitable for handling bags that are not completely filled or contain aerated or powdered material, providing exceptional flexibility. It is equipped with a gripper that moves along three Cartesian axes while rotating around its vertical axis.
Single-column palletizers
The single-column palletizer is the simplest and most compact model of the entire range produced by Concetti. The single-column bag palletizer can process stable, aerated, and incoherent products – allowing the partial overlapping of the bags in the layer, both at the top and at the sides – and can flexibly change the format. Its extreme simplicity makes it possible to palletize even pallets placed directly on the ground.
Bag in box palletizer
Therobotic portal-type bag in box palletizer has a production capacity of up to 1800 bags/hour. It features heads equipped with suction cups and vertical movement to pack bags and boxes in pre-formed corrugated boxes (pallet display units). This guarantees greater protection of the product during transport and storage.
Palletizer Lampo
LAMPO is an automatic palletizer for bags, bundles, and boxes. This palletizer mixes the reliability of a conventional palletizer with the flexibility of industrial robots. The conformation of the individual layers, combined with full-height lateral compaction and a very flexible shell gripping head, results in compact and solid pallet stacks.
Robotic bag palletizer Compacto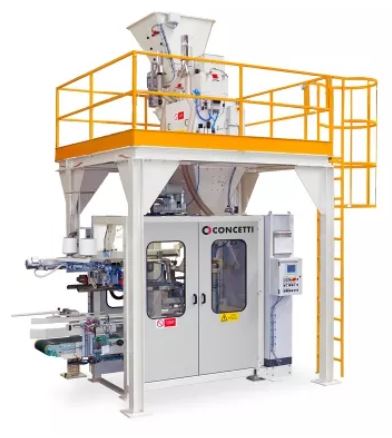 The Compacto robot arm palletizer, featuring cutting-edge layer squaring and compression technology, stands alone in its class by seamlessly blending the versatility of industrial robotic arms with the layer compacting and compressing capabilities typically reserved for conventional layer palletizers. This recently unveiled, fully automated hybrid system sets a new benchmark, handling up to an impressive 1200 bags per hour.
Do you need an automatic palletizer?
Automatic palletizing can work in two different ways. In some cases, it is carried out through machines equipped with mechanical arms (palletizers) that move the goods from the filling line to the palletizing point. Once in the bag, the goods are transported on a roller conveyor and positioned by the mechanical arm based on the settings defined by the palletizing scheme. Other palletizing systems, such as low-level and high-level palletizers, are 'push type': they push the full bag on the layer forming plate before it is palletized.Automatic palletizing is easily managed through PLC, an intuitive display interface.
Automated palletizing and palletizers have several advantages over manual palletizers:
They are easy to operate;
They offer greater safety for operators, reducing the risk of on-the-job injuries;
They have greater production efficiency;
They give better results in terms of pallet compactness and load distribution. Efficient logistics save money. Well-squared pallets – without protrusions – avoid packaging breakage and product losses (if the products are technical and high-quality, their loss or breaking represents huge economic damage for the final customer);
Safe and well-made packaging for transportation avoids product leakage into the environment.
Ensuring the smooth operation of your palletizer machine is essential if you're aiming to optimize your end-of-line processes. In order to do so, creating the most value and longevity, a structured maintenance approach is crucial.
Below, we delve into the key steps every company should integrate into their maintenance routine for optimal performance:
Regular inspection: like all machinery, an automatic palletizing system requires routine checks. This will ensure that all components, including sensors, conveyor belts, and robotic arms, are functioning optimally;
Lubrication: periodically, the moving parts of the machine need to be lubricated to minimize wear and tear. Always use the recommended lubricants to avoid any compatibility issues;
Cleaning: dust and debris can greatly compromise efficiency. A regular cleaning schedule prevents build-up and ensures the machine operates at its peak;
Software Updates: automatic palletizer machines are equipped with advanced software for seamless operations. Ensure that the software is frequently updated to leverage the latest features and security patches;
Replacement of worn-out parts: over time, some components may exhibit wear. Replacing them proactively, rather than waiting for a complete breakdown, can save both time and resources.
Professional check-ups: annually, or as recommended, have the machine examined by a professional. This expert view can catch potential issues before they escalate.
Having a smoothly running automatic palletizing system can be the edge your company needs. When you choose Concetti, you're not just investing in a machine but in our profound expertise and commitment to excellence.
Allow our solutions to empower your production lines with automatic palletizing, ensuring that every package is perfectly ready for the next phase.
Reach out to us: together, let's craft the ideal solution tailored to your unique needs.
Do you need more information about automatic palletizing?