As bag filling machine manufacturers, Concetti provides a range of bag filling machines, customized according to the clients' needs. We also have an always on customer support team throughout the life cycle of the machinery.
Concetti represents an international benchmark in the design, production and installation of bag filling machines.
Due to our continuous research of innovation and to the high specializationof our technicians, we are able to always offer the best product to our customers. For instance, the automatic form, fill and seal bagging machine features long production cycles and sustained high speeds. The main applications of form fill and seal baggers are in the petrochemical, fertilizer and cement product fields. FFS technology guarantees resistant and sustainable packaging.
Concetti, bagging machines manufacturers since 1975
With the aim of offering machinery capable of improving the production efficiency of customer companies, Concetti has always sought to manufacture bagging solutions with a high technological level.
Today the result is a wide range of durable and long-lasting automatic and semi-automatic bagging machines that guarantee high production speed, ease of use and worker safety. Our machines can work 24/7, in a heavy duty environment.
Form, fill and seal baggers manufacturers
Among bag filling machine manufacturers, Concetti stands out for the complete customization applied to its machines. In this way, the lines can be installed in any existing production context. Let's see what features distinguish the different lines of bagging machines for each industry.
Continua FFS machine - Non free flowing products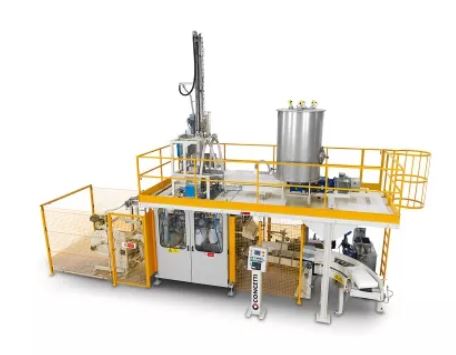 The FFS-E of the Continua line are manufactured to achieve high bagging performance of products that are extremely difficult to dose and package. They consist of three operating stations: one for forming the bottom of the bag and cutting the film to the desired length, the second for filling the bag and the last for sealing the mouth.
Continua Six Station FFS machine - Fine premix and pure cement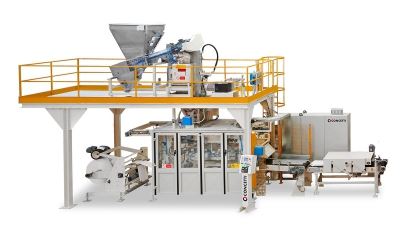 Continua six station FFS system for bagging from PE tubular reel is designed to achieve high precision in product weighing with double auger feeding and perfect cleaning. In fact, the scale is equipped with an automatic cleaning system that uses air nozzles, a pneumatically operated door and an auger with reversible movement to eject the residual product into a small hopper. Specifically designed for handling fine premix and pure cement into hermetic PE bags.
FFS-E - Free flowing products
This fully automatic Form Fill & Seal bag filling machine is specially manufactured to achieve very high productivity, over 2000 bags/h, depending on the characteristics of the product. FFS-E is designed for flowing and granular products packaging.
Open-mouth bagging machines manufacturers
Concetti manufactures different series of open-mouth bagging machines, customized according to the customer's needs.
IPF automatic bagging machine
IPF is the fully automatic bagging machine of the Concetti range, specifically designed to fill and close small size open-mouth gusseted bags. The various system components are self-adjusting in order to ensure optimum filling and perfect closing. It is suitable for 0.1 to 4.0 kg.
IMF bagging system
IMF is an automatic bagging system equipped with two bagging mouths, up to 1800 s/h production rate, specifically designed to fill and close medium-sized gusseted open-mouth bags. Its particularly compact dimensions allow the machine to be inserted in any existing production environment.
IGF PURA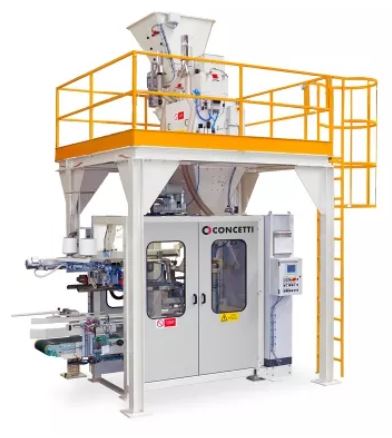 IGF is a fully automatic bagging system, manufactured to fill and close preformed open-mouth bags. These bagging lines are highly versatile: the components self-adjustment allows the filling and perfect closing of 5/10/25/50 kg bags, both flat and gusseted, in paper, PE or polypropylene raffia, on the same machine.
Starpack packing machine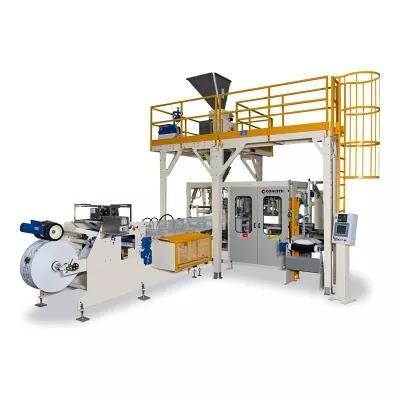 STARPACK 1200 - 1600 is a high speed bagging systems is a high-speed automatic line designed to pack loose granular and finely granular products in prefabricated open-mouth bags. It is manufactured by Concetti to meet the needs that require high hourly production rates, and it stands out for its great flexibility of use.
IGF semi-automatic bagging machine
Among the machines of the IGF family, Concetti has also developed a semi-automatic model for filling and closing jute, polypropylene raffia, PPE, paper and polythene paper bags that allows bags to be carried out in safe conditions for the operator.
Bulk bag filling systems manufacturers
Concetti is a bulk bag filling machinemanufacturer:
Net weighing machines by Concetti can fill not only FIBCs of various sizes (heights of 900 to 1800 mm) but also boxes or other types of containers. The plant can be completed with a pallet-evacuation roller conveyor and an automatic empty-pallet magazine.
The hydraulically driven vertical movement of the gross weighing system's frame makes it possible to handle different types of FIBC formats without any difficulty, thereby guaranteeing great versatility (FIBCs ranging in size from 900 to 1800 mm).
The competitive advantages of Made in Italy bag fillers machine


There are several competitive advantages that can be associated with the innovative bagging machines manufactured by Concetti. Here are the main ones:
High level of plant customization;
Complete turnkey lines: all from one supplier with one point of contact;
Automatic management through PLC: the operator interacts with the machine through a practical display interface;
Program change in just 90 seconds, without the need for tools or manual intervention;
Possibility of customization with various optional devices: deaeration system, cooling system, dust compacting system and various closing mechanisms;
Optimal preservation of product quality thanks to Modified Atmosphere Packaging (MAP);
Compliance with safety regulations in force;
Possibility to realize machines for potentially explosive areas (ex: ATEX, NEC, IECx, etc);
Preparation for Industry 4.0 incentives;
Always-on assistance and support: Concetti stays by the side of its customers throughout the life cycle of the machinery, thanks to the new Check, Customer Help Care Kit services for field and remote assistance. In addition to a series of digital services (customer portal, Check app, smart glass assistance, etc.), our customers can rely on direct support from local service centers (Campinas, SP, Brazil and Braselton, GA - US) with teams of experienced technicians who can go directly to the site upon request. Eventually, there is an appreciated training service for the customer's staff for correct use of the machines.
Concetti, one of the best bagging machine suppliers in the world, can help you renovate your lines.