Since 1975 we have been working as bag packing machine suppliers serving a variety of local and international companies which operate in various fields and need packing lines either for big and small productions.
Concetti is a designer, manufacturer and supplier of customized bag packing machine systems for companies to avail of a concrete experience in the packaging of the most difficult materials. We are specialized in the production of high-precision, semi or fully automatic bag packing machines for high production requirements and for different industries: agriculture, construction, livestock and food.
What is a bagging machine and how it works
Bag packing machine equipment is used to automatically (or semi-automatically) fill and seal products inside a bag of different types and materials (open-mouth bags, preformed open mouth bagsetc.). Concetti's bag packing machines can be used to fulfill a variety of requirements and for a range of purposes, particularly in circumstances that require the efficient packaging of mass quantities of product.
Speed and efficiency is a must when bagging animal feed, alimentary flours, or dealing with other materials such as sand, gravel, grains or soil. That is why we offer reliable and durable complete lines which are technologically superior to the standard product. Every packaging solution is customized, resulting from a close collaboration with the client.
Our range of bagging and packing machines consists of two major lines that provide a complete solution for bagging and sealing any product: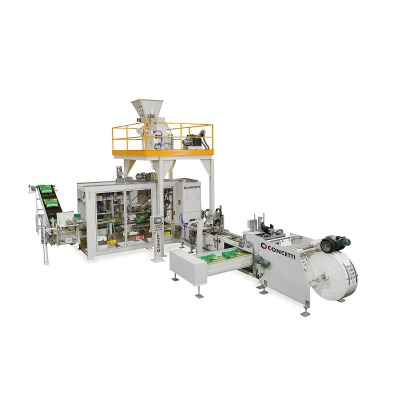 Why choose us as your bag packing machine supplier
Concetti has been a bag packing machine solutions supplier since 1975, when we began to produce our first lines. Our philosophy assumes a traditional know-how along with an aim for innovation and research, flexible and able to respond to the demands of a competitive and evolved market.
There are many competitive advantages in choosing Concetti as your bag packing machine lines supplier:
High-level of plant customization;
Complete turnkey lines: all from one supplier with one point of contact;
Possibility of customization with various optional devices: deaeration system, cooling system, dust compacting system and various closing mechanisms;
Optimal preservation of product quality thanks to Modified Atmosphere Packaging (MAP);
Compliance with safety regulations in force;
Preparation for Industry 4.0 incentives;
Always-on assistance and support: Concetti stays by the side of its customers throughout the life cycle of the machinery.
Once you try our bag packing machine systems, you'll never work without!
Contact us for a free estimate
How we do it
Over the years we developed a deep know-how as a mechanical machines manufacturer and bag packing machine systems supplier. The experience in the field allows us to identify the most suitable kinds of product on the basis of your production types and functional needs. At Concetti you will find technical staff whose expertise turns us into your ideal bag packing machine supplier. Here's what we do:
We start asking you about your needs from a technical and functional point of view;
We design and manufacture the bag packing machine in our site in Umbria, under the strict supervision of an engineer;
Then we supply the most suitable machine for your products to be bagged;
We make bag packing machine tests to be sure it actually work for you – including final inspection in your plant;
We always remain at your disposal for maintenance on the machine.
We are international bag packing machine manufacturers and suppliers
In addition to the production plant in Umbria - Italy, we have subsidiary sites in the US and Brazil,and more than fifty agencies worldwide with many assistance centers and highly-qualified service engineers. Moreover, our international sales network covers about sixty countries, giving the customers ongoing assistance during the entire lifecycle of the machine.
Thanks to the new Check, Customer Help Care Kit services for field and remote assistance, we can guarantee a series of digital services (customer portal, Check app, smart glass assistance, etc.) to our customers that can rely on direct support at any time.
The fields we supply bag packing machines for
As bag packing machine suppliers, we work for a wide variety of industries. Due to our expertise as bagging systems suppliers, we can cover the majority of them: as a matter of fact, we manufacture machinery for agriculture, construction, food, pet food, chemical, petrochemical, manufacturing industries.
Are you in need of a bag packing machine supplier?