The efficient and precise handling of chemical products is of utmost importance in various industries, and it is essential to have a reliable solution that ensures accurate filling and packaging. In this regard, Concetti, a renowned leader in the field of packaging machinery, introduces its cutting-edge Chemical Filling Machine, offering a wide range of innovative solutions to meet the diverse needs of the chemical industry.
In this article:
Our range of chemical filling machine
The chemical products processed by Concetti - for example NPK, urea, phosphates, ammonium sulfate, etc. - can come in granules of varying diameters (from 1 mm to 4 mm). Additionally, it is possible to bag powdered chemicals with a particle size ranging from a few dozen microns to a few tenths of a millimeter.
FFS-E granules chemical filling and bagging machine
FFS-E is form fill and seal machine specifically designed for chemical granules. It can fill chemicals in bags ranging from 10 to 50 kg, with a maximum capacity of 2000 bags per hour for 25 kg bags and 1600 bags per hour for 50 kg bags.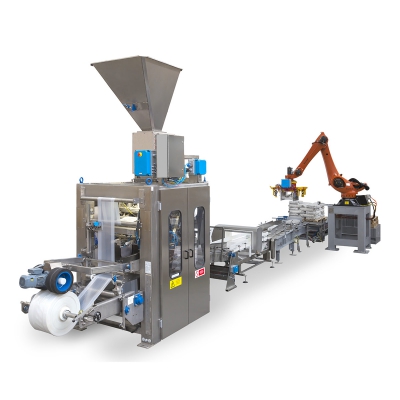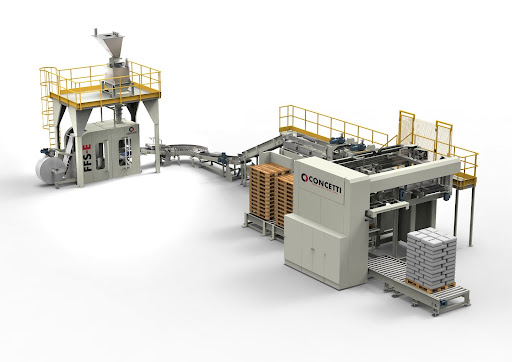 FFS Continua chemical bagging machine
FFS Continua is a modular solution that can have from 4 to 6 stations, depending on the product characteristics and customer requirements. It features a sophisticated combination of product deaeration through probes and product vibration to settle it in the bag, making the product more compact and easy to handle in various stages.
Possibility of using reels of 100% recyclable, low thickness polyethylene tubular film containing up to 50% recycled polymer.
The reel of tubular film can be safely and easily replaced in a matter of minutes by the operator.
Possibility of customising the shape of the end bag (K-seal or cut-out handle) or marking using a thermal or inkjet printer.
All the FFS bagging machines can be easily accessed for inspection, maintenance and cleaning.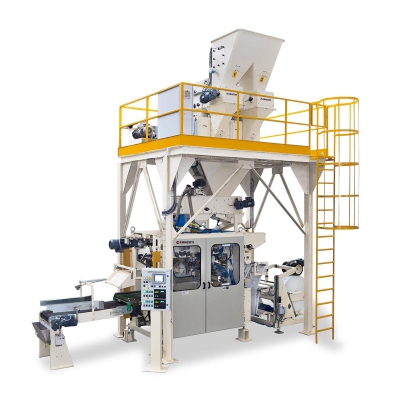 IGF
For customers who prefer to use bags in polypropylene raffia for their chemical products, Concetti proposes the machines of the IGF line, which can reach a production capacity of 1200 bags per hour for bags of 25 kg and 900 bags per hour for bags of 50 kg.
Filling plants for chemical Big-Bag
The chemical plants are used for filling fertilizers in Big Bag ranging from 400 to 1200 kg and are also suitable for FIBC. Particularly effective for fertilizers are the Concetti bulk bag installations. They can guarantee capacities of up to 180 bags/hour.
In the case of aggressive and corrosive products, Concetti provides 100% stainless steel solutions with a very long life and highly customized solutions, thanks to precise design that takes into account all customer needs, without compromise. The aim is to guarantee the best performance with the lowest costs.
Explore our range of chemical filling machines and contact us for more information!
Palletizing systems for chemical products - conventional high-level palletizer
The high-level push-type palletizer is designed specifically for chemical powder products and high-speed operation while ensuring stable bags with a defined shape. It consists of a rigid case palletizer with a vertical frame that allows for simultaneous operations, enabling high production capacities.
The machine has a vertical frame sliding on a rigid case palletizer, holding the pallet in place.
Bags from the chemical filling machine are elevated to an orienting device.
Following a predetermined pattern, the bags are arranged on a row-formation roller conveyor.
Once a row is complete, it moves to a temporary parking area.
When the final row completes a layer, a pusher transfers the entire layer over two sliding trapdoors, centrally unloading it and compacting it on all four sides.
The trapdoors then open, allowing the layer to unload onto the pallet while the frame descends by one layer's thickness.
This cycle continues until the pallet is fully assembled. The frame then lowers to the level of the evacuation roller conveyor.
Eventually, the pallet is ejected through the roller conveyor and directed to the parking roller conveyor. Simultaneously, a new empty pallet reaches the mobile frame, which is raised to the height of the trapdoors to receive the first prepared layer and initiate a new cycle.
Why is so difficult to bag chemical powders?
Chemical powders can be highly challenging to package because of their aerated, flowable, volatile, and sticky nature. They require a special packaging process to prevent them from incorporating air and becoming difficult to bag. In fact, a bloated bag is impossible to palletize, and the increased transportation costs are significant. Special chemical products can also be expensive, with high added value. The weighing accuracy, characteristic of integrated bagging scales, protects the customer from uneconomical inaccuracies in weighing.
To prevent this issue, Concetti has developed a chemical filling line of machines and palletizers and expertise in this type of process that no one can equal.
Safety and health security
Concetti's product lines feature state-of-the-art dust extraction systems that effectively maintain a clean and safe environment during dosing and filling chemical products. These advanced technologies prioritize the health and well-being of customers' personnel by capturing and removing dust particles, preventing the dispersion of harmful substances. The system is designed to meet safety requirements in potentially explosive areas, incorporating specialized executions and adhering to strict standards and regulations.
Concetti offers customized solutions, working closely with clients to tailor the dust extraction systems to their specific needs. With a focus on health and safety, we provide reliable and personalized solutions, ensuring well-being even in dangerous environments related to chemical products.




Contact us for more information about our chemical filling machines!