Discover all you need to know about the FFS-E salt bagging machine by Concetti - designed to be compact, and resistant at all times. Concetti produces a bagging machine specifically designed for granular, free flowing and non-dusty products, like sea salt and rock salt.
On this page, we will dive into:

FFS-E salt bagging machine characteristics



The FFS-E salt bagging machine by Concetti is the epitome of compactness, precision and efficiency. It has been designed to reach very high capacity outputs, with over 2000 bags/hour.
Equipped with three operating stations, this machine has unique electronic and mechanical performances which pinpoints once more the reliability and consistency of Concetti's machinery.
FFS-E is not only a salt bagging machine, but it is a versatile solution that can deal with many different materials in a unique way. Thanks to a close collaboration between our experts and the customers, this equipment can be customized.
Concetti has the aim to meet your expectations and go past them, delivering excellent machinery that can deliver what you require seamlessly without compromising on quality and the operators' safety.
Are you looking for a perfect salt bagging machine?

The process of salt bagging through FFS-E

Diving into the mechanics of the FFS-E equipment, we can definitely perceive that this is not just a functional and solid machine.
In fact, it is extremely fast in delivering the bags requested as well as being astonishingly accurate in order to lower product waste.
Another feature which needs to be emphasized is that the whole structure of this machine is built using top-quality, corrosion-resistant and durable materials such as stainless steel. This is an important characteristic in machinery that needs to be easily cleaned internally because of the corrosive action of salt products.
Furthermore, Concetti has automated the whole packaging process. Now, the operators only need to set the parameters correctly and wait for the PLC-managed machinery to deliver the exact amount of bags required.


Discover why push-type high-level palletizer is the best solution for salt bags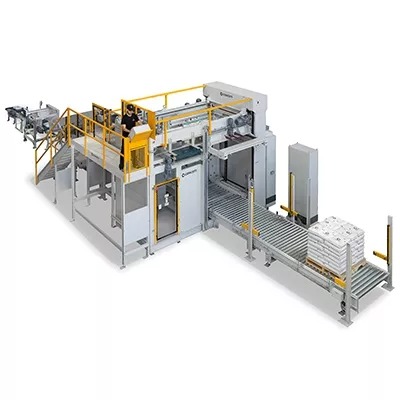 Salt packaging is much more complicated than it appears on the outside. For this reason, it is instrumental to reach optimal storage and transport conditions in order to preserve the intrinsic qualities of this product.
It is not a mere coincidence that the push-type high-level palletizer, when combined with an efficient salt bagging machine, can help you achieve perfect packaging results.
It is essential to keep in mind that salt is inherently dense and it can be well distributed in bags. This palletizer model has been conceived to manufacture stable and cubic pallets.
In this way, space is optimized and salt can be safely stacked. The future of storage lies in the synergistic work of the FFS-E salt bagging machine with this push-type high-level palletizer.


Discover more about our push-type high-level palletizer

Our FFS packing machine compactness



One of the most relevant characteristics of the FFS-E salt bagging machine by Concetti is its compact size.
Being thoughtfully engineered to be placed even in the most narrow places, this machine can be located in any production site.
Moreover, it displays a monoblock structure which is particularly user-friendly design-wise. Maintenance operations and cleaning are much easier thanks to an opening at the bottom which enables the operator to reach every corner of the machine.

Safety is another priority for Concetti. This is why FFS-E has inspection doors which allow the machine to be more productive but also to ensure the maximum level of security to the operators.
This salt bagging machine is synonymous with efficiency, simplicity, and most importantly, puts the safety of the operators first.


How salt bagging works

How does the salt bagging process work through the FFS-E system?
Firstly, the machine shapes bags starting from a pre-made PE tubular film. Length can vary due to the parameters set for that butch.
Then, bags are filled with salt. Thanks to an automated weighing system, FFS-E knows exactly when to stop in order to provide just the right amount of product.
Once the filling step is over, the machine proceeds with sealing, a very delicate phase that can affect the purity and freshness of salt.
Lastly, bags are palletized so that they can be easily transported.
FFS-E optimizes the manufacturing process ensuring that not a single grain of salt is wasted. But this is not it.
Concetti cares about the environment and, for this reason, FFS-E can work successfully with different types of packaging, even recycled ones, in order to be greener in an industry which deeply values sustainability.
Last, but not least, this machine has been designed to save energy, and deliver a perfectly smooth finish.


Do you want to find out more about our FFS-E salt bagging machine?