Bagging equipment plays a crucial role in various industrial operations. It refers to the machinery used to fill bags with different materials, such as food products, animal feed, chemicals, and construction materials, among others.
In this article:
Concetti top-quality bagging equipment
Concetti is known as a leading manufacturer of cutting edge bagging equipment lines designed to meet the most stringent demands of the industry sector. Unmatched performance and advanced technology are core features of our bagging machines, ensuring to take your packaging efficiency to the next level.
Let's discover our main bagging machines and their characteristics.


FFS bagging equipment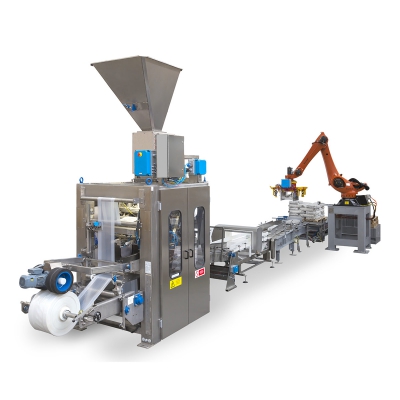 Concetti provides different FFS bagging equipment and comprehensive lines which stand out for their technology, dependability and durability. Each solution is accurately tailor-made to value the customers' needs.
This heavy-duty packing allows to stock products externally, providing a high level of protection to hygroscopic and perishable items.
One of the most famous models for this range is the FFS-E machine, designed to achieve excellent performance. This machine is ideal forfree-flowing, non-dusty products and has three operating stations.
Both mechanically and electronically, this technical solution has been conceived to be able to meet the most diverse demands capacity-wise. Energy-efficient, sleek finish, and the deployment of PLC technology with installed actuators ensure the maximum functionality of the whole bagging equipment.
Their robust structure is made of stainless steel. Furthermore, they are corrosion and abrasion resistant so that they can easily stand the test of time even in heavy-duty contexts.


Open-mouth bagging machines


High performance and versatility characterize Concetti's open-mouth bagging equipment. The filling and sealing of different types of pre-made open-mouth bags - starting from 0.22lbs to 11lbs for pet food and seeds - turn into an automated process.
These state-of-the-art machines boast impressive speed, superior safety measures and devices all in a compact design, making them seamlessly adaptable for integration into production plants.
From handling bulk solid products to ensuring precise packaging, open-mouth bagging machines are dependable and efficient. For this reason, they are widely used across multiple industries.


Bulk bag filling equipment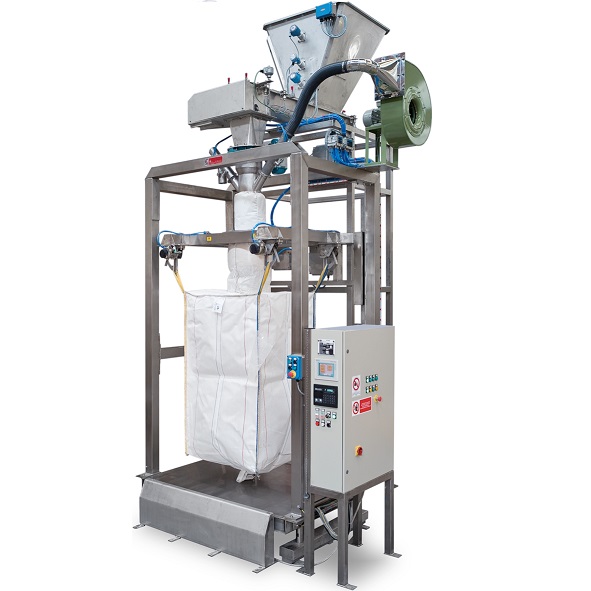 Concetti offers a range of automatic and semi-automatic bulk bag filling solutions. They are designed to weigh and fill bulk bags with the utmost precision and efficiency.
For this reason, our machinery presents various feeding options - based on the product requirements and features - including gravity, belt, or screw for a perfect integration in your manufacturing process. They are accessible and easy to control thanks to a HMI interface.
It is crucial to make a distinction in our large bag filling machines categorization:
Gross Weighing Systems is a versatile automatic machine that allows you to weigh your product directly in the bag.
Net Weighing Systems are efficient machines that are suitable not only for FIBCs, but also for boxes and octabins. In this case, the product is weighed before being discharged into the bag.


Try our bag machine systems!
Contact us for a free estimate


Maximizing efficiency: why bagging equipment is critical in industrial operations
Nowadays, when it comes to the world of industrial operations, it is necessary to reckon that competition is arising and processes should be optimized. This is why bagging equipment is vital, whichever is your field of expertise.
Concetti has designed a complete line of machines that can help you in achieving the productivity you are trying to implement in your activity.
Automation and extreme precision in filling and sealing bags ensure a high level of consistency and accuracy whilst the packaging process of bulk solid products. Furthermore, our machinery can easily be integrated into your production plant thanks to their design and accessible technology. Nevertheless, bagging equipment is highly versatile and can handle different product types based on their core features.
Concetti presents two systems, one for gross weighing and one for net weighing, enabling different containers and reducing the risk of product wastewithout compromising speed.
By choosing bagging equipment that complies with industry standards and employs stainless steel construction for durability and corrosion resistance, industrial operations can benefit from long-lasting, reliable performance, adapting to the dynamic context with which we need to confront every day.


The top benefits of using bagging equipment in your manufacturing process
Manufacturing is becoming more and more hectic these days. Consequently, efficiency and productivity are paramount to achieve great results.
This is the reason why Concetti provides bagging machines which can bring a series of advantages from a manufacturing standpoint.
Our equipment can offer you an unparalleled level of customization, ensuring a perfect alignment between your business and our bagging machines.
Choosing Concetti, you're selecting a partner who is capable of understanding in depth what you are looking for. No matter what your field of expertise is - we will provide you with the perfect turnkey solution for you.
Our bagging machines are designed to reach different capacities based on the products' features. This will guarantee you excellent results, enabling swift and a constant packaging of products, thus streamlining your production process.
Concetti ensures high-speed performance that can endure heavy-duty production.
Our machinery is equipped with groundbreaking safety features in order to guarantee error free operations.
Last, but not least, our bagging solutions are made of high quality materials which are durable and resistant, perfect if you are looking for a dependable machine. Plus, Concetti wants to give you not only a solid structure, but also advanced technology and versatility, making sure to cater to the various requirements of a number of industries.


Concetti exceptional Customer Service
Concetti has always been committed to delivering an unrivaled Customer Service for the US. As we do understand how crucial smooth operations are for your business, we dedicate ourselves in remote and on-site assistance from the design to the construction of your bagging system.
Our experts will always be by your side, providing rapid resolutions for any technical issues you may encounter, ensuring minimal downtime and maximum efficiency. Whether you are having trouble with the installation process or need support for ongoing maintenance, our responsive Customer Service is just a call away.
Choosing Concetti you will select a trusted partner with a history in manufacturing tailor-made solutions, putting your success on top of our agenda. With our bagging equipment we would like to exceed your expectations and we aspire to be by your side all along the way.


Request a quote!
The fastest way to get pricing and additional information.