Nowadays, packaging is not just a process. It is an industrial activity that is constantly developing new filling solutions that use technology.
Since 1975, Concetti has been designing and manufacturing a broad range of machinery in order to enhance your business and meet the most stringent quality and safety standards.
In this article, we will delve into:
Different industrial solutions depending on your packaging


Every material needs to be packed in a different way based on volume, weight and physical characteristics.
At Concetti, we have automated and semi-automated industrial filling solutions that can perfectly adapt to your product's features in order to guarantee high performance and outstanding packaging results.


Pre-Made Open-Mouth Bags


Among industrial packaging methods, pre-made open-mouth bags is definitely one of the most versatile and affirmed techniques of this sector.
There are many different types of open-mouth bags made of materials such as paper, woven PP, plastic, multilayer, and so on. This gives us the opportunity to pack a broad range of products for multiple markets.
When it comes to activities which require this specific type of bags, high accuracy and speed are crucial.
This is the reason why Concetti has decided to specialize in both automated and semi-automated filling, sealing, and palletizing tailor-made systems for industrial bags from 11 lbs up to 110 lbs.
Furthermore, our bagging machines can successfully manage innovative and sustainable packaging like single-material plastic bags which are 100% recyclable.
Our IGF industrial bagging machine has been specially designed to fill and close pre-made open-mouth bags automatically. This machinery is perfect for industrial context and can be complemented by either net or gross weighers that use gravity, belt or screw-feed systems, based on the product that needs to be bagged.
The IGF system can reduce setup times, ensuring full control over every step of the bagging process to the operator. It is reliable in terms of production rate while guaranteeing minimal product waste, and perfect adjustment to many different densities based on the material involved in the process.


Bags from Tubular Film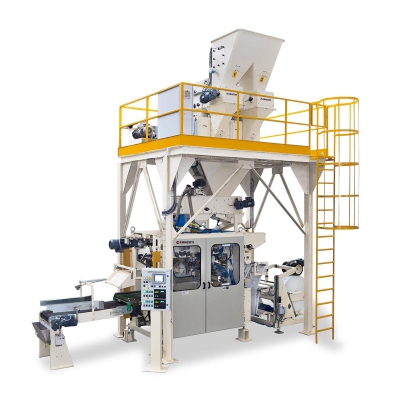 If you are interested in a seamless packaging process, our automatic horizontal form, fill, and seal industrial machines are what you are searching for. They are designed to pack granulated and powdered products. Concetti's equipment uses film made from many different tubular reels for industrial bags up to 110 lbs.
Our FFS Fill, Form and Seal Baggers can also manage film that has a reduced level of thickness in order to lower plastic waste.
Our complete lineup of filling machinery can be customized to provide you the best quality you can think of. They also ensure sustainability, enhanced durability, high production rates and top-tier automation all in one solution.
Our FFS "Continua" system is a monoblock that has been conceived to deal with high production rates (up to 800 bags per hour). It consists of three stations: one for forming the bottom of the bag and cutting the film, one for filling it and one for closing the top of the bag.
This solution is fully automated in order to improve production and achieve high speeds.


Big Bags / FIBCs / Bulk Bags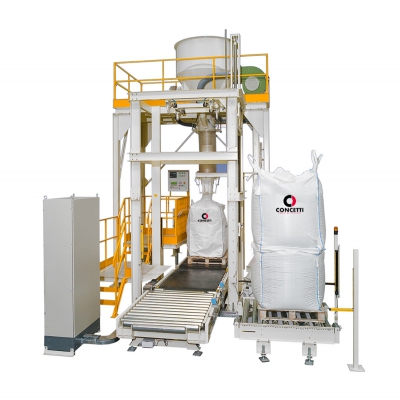 More often than not, industrial-scale demands require bulk solutions, such as big bags. They are solid containers made of interwoven polypropylene strips, conceived for the transportation and storage of many materials like pellets, flakes, granules and powder products.
This type of packaging is especially used in the chemical and mining fields, but they can also be employed within the agri-food industry.
Concetti is a leading business in the weighing, filling and sealing of big bags, providing customizable machinery that can deal with hefty volumes that are easy to handle and work with. We propose two solutions for industrial bagging:
Gross Weighing Systems: these are automatic machines that can handle different types of FIBC formats, ensuring maximum adaptability.
Net Weighing Systems: these machinery can manage a broad range of sizes, but they can also fill and close boxes and other container types.


Discover our gross and net weighing systems


Choosing the right filling solution for your production needs


An industrial filling system can really make a difference. For this reason, it is of paramount importance to choose the right bagging equipment.
These are the pillars you should consider while choosing which is the most suitable machine for your business.
First and foremost, you should know your product thoroughly in order to make an informed decision. Are you dealing with granular or powdery products? What kind of machinery can increase your production efficiency without compromising quality?
Secondly, you should be aware of the volume of material you usually work with in order to consider the quantity of product your industrial filling machine will have to pack.
Frequency is another crucial factor. In fact, it determines the production rate of your entire facility.
Last, but not least, you should opt for a flexible machine that can easily make adjustments in order to fulfill all of your demands and provide you with different packaging types.


The advantages of choosing Concetti


Concetti is a 45-year business with traditional roots and the eyes always looking towards innovation. In the realm of industrial filling, we stand out for our groundbreaking machinery, impeccable services and excellent customer assistance.
If you decide to opt for one of our solution for industrial filling, you will take advantage of:
our know-how: our legacy dates back to 1918 when Domenico Concetti opened a craft workshop for agricultural machinery. Since then, we have never stopped working for you, becoming pioneers in the packaging industry.
customized models: we do not want to be mere listeners and manufacturers. Our goal is to embrace your vision and craft filling machines that perfectly match your demands.
our technology: we have always been committed to research. This is why our solutions are unwaveringly evolving, going towards groundbreaking innovation.
our machinery: if you are searching for industrial filling machines that can withstand challenges throughout a considerable lapse of time, Concetti has the equipment you need. Our solutions are not only accurate and automated, but they are dependable and durable.
Every new project is a challenge, and every new challenge drives us to think outside the box in order to develop new ambitious solutions and take your stakes even higher.
Concetti wants to be always one step ahead of its competitors, providing clients with filling machines that combine craftsmanship, passion, commitment and technology - our secret ingredients for excellence.


Discover more about the vast offer of industrial filling machines by Concetti