Chemical and organic fertilizers (such as NPK, urea, phosphates, ammonium sulfate, etc.) can come in granules of different diameters, from 1 to 4 mm. However, there are also powdered fertilizers; in these cases we are talking about the sizes of a few dozen microns to a few tenths of a millimeter. To bag and palletize these products, appropriate and specifically designed machinery is required. Concetti manufactures fertilizer bagging plants, fertilizer palletizers and weighing equipment.
In this article we will explore:
Fertilizer bagging plant FFS-E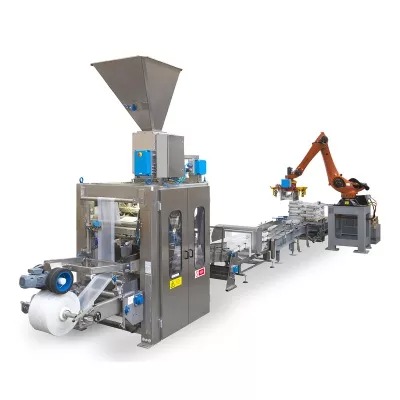 The FFS "Form Fill & Seal" bagging machine is suitable to bag flowable and granular products such as fertilizers. It is fully automatic and specifically designed to achieve very high productivity, over 2000 bags/h, depending on the product's intrinsic characteristics. This bagging plant is equipped with three operating stations: one for forming the fertilizer bag bottom and cutting the film according to the desired length, the second one for filling, and the third one for sealing the mouth. Thanks to the integrated PLC, the change from one product or format to another takes place very quickly and without the slightest operator intervention.
High-level palletizers are perfect for fertilizers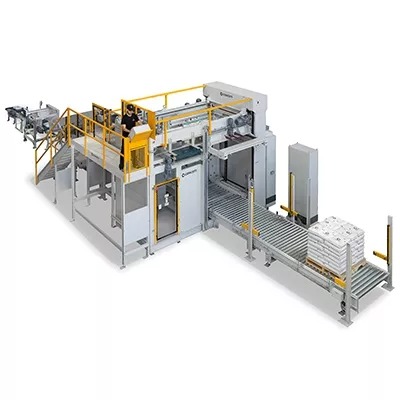 High-level palletizing plants are perfect for the fertilizer industry. High production capacities can be achieved with these automatic palletizers, as several operations are carried out simultaneously. Automatic palletizers for fertilizers consist of a rigid structure on which a frame runs vertically to support the pallet. The use of PLC as a management system for high-level palletizers facilitates the format change or the palletizing program very quickly. In addition, you can store different palletizing schemes, which can be easily executed. Automatic top-loading push palletizers are completed with a walkable platform for access to the machine's elevated parts, empty pallet magazine, and evacuation roller conveyor and parking for full pallets.
Bulk Bag Fillers with Net Weighing System
The company specializes in the production of bulk bag filling systems for a wide range of applications. Concetti's net-weight systems are designed for granular and flowable products such as fertilizers.They are suitable for high and medium speed applications and can reach 180 big bags per hour, depending on the automation type. With Concetti machinery, jumbo bags can be processed with different loading options, including:
Infeed spout
Total bottom opening
Filling valve
These systems are perfect for bulk bag filling, and also for octabin (agri-bin or bulk box), proving to be flexible and adaptable to different needs.
The characteristics of a fertilizer bagging plant
To choose a Concetti-branded fertilizer bagging plant means to rely on Made in Italy quality combined with a high level of technology and automation that contributes to increased productivity and improves the bagging process.
To operate at maximum efficiency, a fertilizer bagging plant must meet certain important structural and functional characteristics.
What are the main competitive advantages of fertilizer bagging plants?
High productivity
Use of stainless steel and Teflon coating for parts in contact with products, due to the aggressiveness of fertilizers (with the possibility to request the entire plant in stainless steel)
Easy to clean and maintain
Deaeration system to compact products
Suction hood for immediate dust removal
Cooling device by which the machine's high production rate doesn't compromise the quality and success of the packaging procedure. It counteracts any overheating.
Other devices: there is a vibration device to better compact the product, and a mechanism to close the bags at different heights
Optimal sealing: due to a sealing system made from premium components, PE, PET and PE-Alu-PE gusseted bags can best preserve the packing products' quality
Last but not least, each project is carried out in close collaboration with the client to best meet its needs and desires and offer a tailor-made product with maximum effectiveness and efficiency.
The high quality of Made in Italy in the USA
Concetti exports its fertilizer bagging plants to the U.S., guaranteeing prompt on-site service due to a technical team present in Braselton (Georgia) and present throughout the territory. These technicians are specialized in solving any problems. Also, Concetti provides a fast and efficient after-sales service.
Assistance and attention to our Americancustomers begins before the purchase: customers can come to Italy to see the operation of the machines and test them with their own products. Once F.A.T. (Factory Attemptance Test) has taken place, the machine is disassembled, shipped and reassembled at the customer's site. An absolute guarantee that is peerless.
Trust in the Concetti quality