Concetti designs automatic machines for weighing, bagging, and packaging cement and associated products such as tile adhesive, dry mortar and gypsum, sand.
Among Concetti's best achievements in recent years are the cement bagging systems and associated materials, specifically designed for the construction industry. The success is mainly due to the shift from pre-formed, paper bags to PE bags made from tubular reels. This makes it possible to avoid product spillage, while also protecting the health of operators and the environment.
What will you find in this article?
Our cement bagging machine FFS Continua Six Stations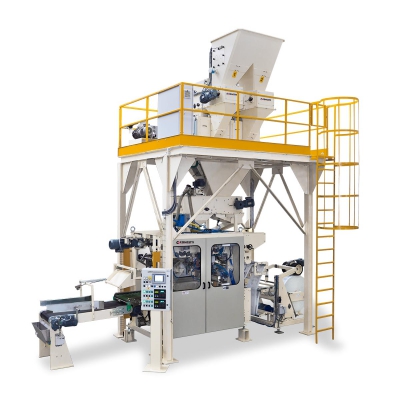 FFS Continua Six Stations is specifically designed for handling fine premix and pure cement into hermetic PE bags. The line takes advantage of the latest developments in PE film technology coupled with Concetti's advanced tubular Form, Fill Seal systems to package cementitious premixes in secure, clean, colorful, and well-presented bags that can release excess air but still safely be stored outside without detriment to the product.
Here you can find the main features of Continua Six Stations for cement bagging:
Hermetically sealed square, compact bags made from a standard PE, without a micro-perforation venting system.
Dust-free environment.
High-accuracy product weighing with double screw product feeding.
Designed for a perfect cleaning. The weigher is fitted with an automatic cleaning system utilizing air nozzles and features a pneumatically-driven door and reversible screw movements for ejecting the residual product into a small hopper.
These FFS systems will appeal to cementitious premix producers who are increasingly bringing new products to world markets for specialized uses in building and construction.
Are you willing to have more information about our cement bagging machine FFS Continua?
How the bagging cement process takes place
In the bagging cement process, Concetti uses PE bags made from a tubular reel, which can prevent product spillage and provide a cleaner and healthier working environment for operators thanks to square bags and stable pallets.
First, a scale doses cement products such as mixtures of cement, small stones, gravel, and sand. This scale is a NET/CC with one or two augers, and an anti-abrasive coating to ensure efficiency.
From the scale, the cement is discharged to the FFS Continua Six Stations bagging machine. This made-of-steel machine has several devices designed for compacting the cement product in the bag thus reducing the bag size. It also has a top air removal station for a total evacuation of the air between the product and the upper edges of the filled bags, and an integrated air cleaning system ensuring the product does not adhere to the inner walls of the bag affecting seal quality. Continua Six Stations can work with bag sizes from 20 to 94 lb., at a speed up to 800 bags/h (500 with hermetic bag).
High-level palletizer for cement, dry mortars, and cementitious products
Automatic high-level push palletizers are particularly suitable for cement and heavy products, achieving high speeds with stable bags with well-defined geometry. Since several operations are carried out simultaneously, these automatic palletizers can reach high production capacities.
Automatic palletizers are part of the cement bagging process and consist of a solid structure on which a frame runs vertically to support the pallet being formed. These automatic palletizers lift full bags of cement from the filling line to an oriented. The palletizer sets up the bags of cement on the row forming a roller conveyor, then, when a row is formed, it moves them to a momentary parking area. When the row completes the layer, it is moved all at once by a pusher over two sliding trap doors with central discharge, where it receives compaction along all four sides. Then the trap doors open, unloading the newly formed layer onto the pallet, and the frame supporting it is lowered by an amount equal to the thickness of one layer.
The cycle begins again until the pallet is completed when the frame descends reaching the level of the evacuation roller conveyor. The roller conveyor ejects the pallet and sends it to the parking roller conveyor. At the same time, a new empty pallet reaches the moving frame, which rises to the level of the hatches to receive the first prepared layer and start a new cycle.
The PLC is a management system for automatic palletizers, and the presence of special actuators lets the users change the format or palletizing program very quickly. Different palletizing schemes can be stored in the PLC memory, ready to be put in execution. Automatic high-level push palletizers have a walkable platform for access to the elevated parts of the machine, an empty pallet magazine, an evacuation roller conveyor, and parking for full pallets. They are also equipped with safety devices confirmed to current standards.


Do you need to bag and palletize cement or associated products?