Concetti worldwide manufactures and supplies weighing and bagging machines for different types of applications and industries. Discover which proposals are most suitable for your company!
Concetti is specialized in the manufacture of several types of bagging and weighing machines, each designed for a specific type of industry and depending on the product to be weighed. Our systems are able to handle numerous types of bulk products, packaging of various materials, different sizes and closures.
Concetti bagging and weighing machines
Bagging scales are integrated into Concetti's weighing and bagging systems. Next, we'll look at some of the main Concetti weighing machines, with different feeding systems. Concetti offers different solutions depending on your needs.
Automatic weighing and bagging machine: our proposals
We have:
Gravity feeding auto bagging and weighing machine
Gravity feeding scales aresuitable for free flowing products to allow a regular flow. In these systems the product is conveyed inside the weighing volume, due to its own weight. This type of bagging and weighing machine allows for high weighing accuracy. The roughing and finishing flows can be regulated by a variable opening shutter, which can be operated pneumatically or by a brushless motor, depending on the production capacity and the product processed.


Belt feeding automatic weighing and bagging machine
The belt feeding automatic scale is suitable for medium free flowing products: the weighing volume is filled via a conveyor belt. Products that can be weighed and bagged using this scale include, for example, flowery products, pellets and flakes. Its weighing range goes from 5 to 50 kg, while the rate is up to 300 weighments per hour.


Screw feeding bagging and weighing machine
Screw feeding scales are suitable for non free flowing products, thanks to the dragging action of the screws (Archimedes' screws), which are able to exert sufficient thrust force. The feeder can be single or double screw, depending on the production capacity required and the characteristics of the product. It is also suitable for powdery or fluid products because it prevents the powder or liquid from spreading.


Double feeding weighing and bagging machine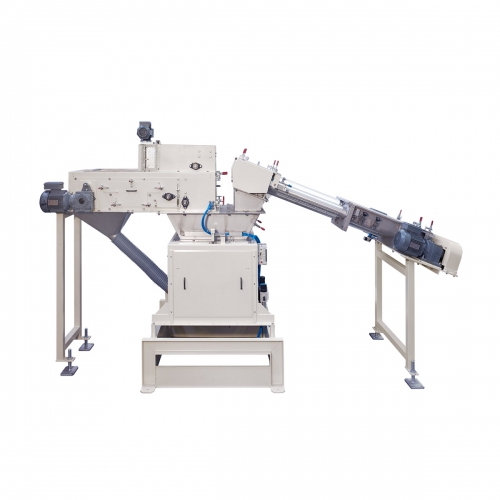 Double feeding scales are specifically used for medium free flowing & free flowing products. Their weighing range goes from 5 to 50 kg, while the rate is up to 300 weighments per hour. This double-feed weighing and bagging machine permits excellent weighing precision thanks to the mechanical features adopted and the high-tech electronic control system developed.
The bagging machines in the Concetti range can be combined with net weight and gross weight scales on a specific request, depending on the type of material. In net weight the product is first weighed and then unloaded inside the bag; in gross weight the product is weighed inside the packaging.
Do you need a bagging and weighing machine?
Automatic and semi-automatic machines for weighing and filling bulk bags
In Concetti's offer there are also specific solutions for bulk bags, that differ in the way the product is fed (by gravity, belt, or screw) and in the capacity (ranging from 500 up to 1500/2000 kg depending on the product and needs). The automatic and semi-automatic weighing and bagging machines can be divided into gross weight scales and net weight scales. Our scales are automatic or semi-automatic, as the operator's input is limited to a small number of simple interactions and monitoring the status of the system through the specially provided Human Machine Interface (HMI).
Gross weighing machine
Concetti's big bag fillers with gross weight scales are designed for low and medium capacity applications and can handle different types of big bag formats - up to 2000 mm high. They are very versatile fillers that can adapt to different production needs both in terms of product type and in terms of quantity, filling method and big bag size. The gross weight system can be used with powdery or granular products. Productivity reaches 30 big bags per hour.
Net weighing machine
Concetti's net weighing systems for bulk bag filling are designed for high and medium speed applications and can reach speeds of 180 bulk bags per hour, depending on the type of automation. The products that enable the highest yields are stable, granular and flowing products.
Weighing and bagging solutions for every type of industry
Concetti machines are the best solution for many types of materials. Depending on the product you need to weigh and pack, our experts will recommend the most suitable machine for weighing and bagging.
For cereals and seeds, for example, net weight scales are ideal, such as NET/G and NET/N, which are easy to clean or even self-cleaning, in combination with the IGF bagging machine. For dusty, low-density, non-flowing products (cement, chemical powders, flours), on the other hand, Concetti has developed a sophisticated weighing system with densifying augers.
If you need more information about our bagging and weighing machines, contact our experts.