Find out all the latest news. Keep up-to-date on trade fairs, events, and news from the world of Concetti.
VICTAM ASIA 2018

Bangkok (THA)| March 27-29, 2018
PROPACK 2018
Ho Chi Minh City (VN)|March 20-22, 2018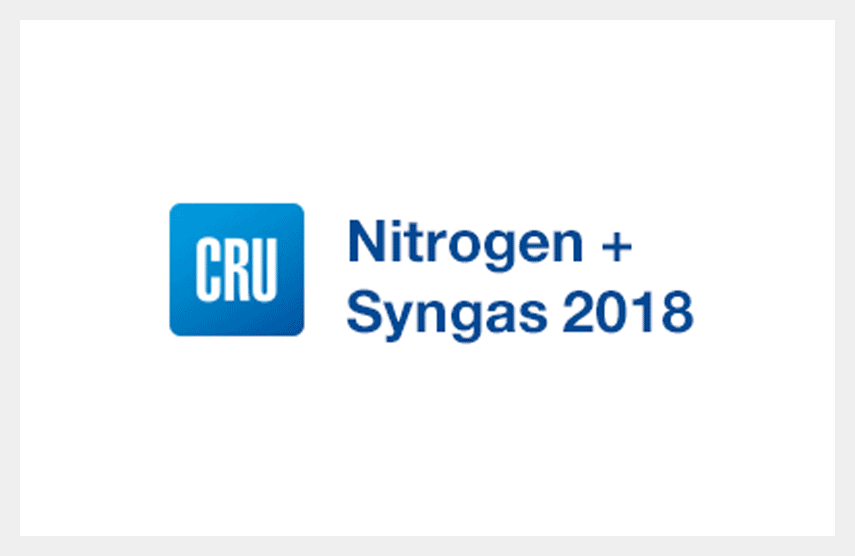 NITROGEN+SYNGAS 2018
Götenborg (S)|February 26-March 1, 2018
IPPE 2018
Atlanta (USA)|January 30-February 1, 2018
High speed turnkey line for animal feed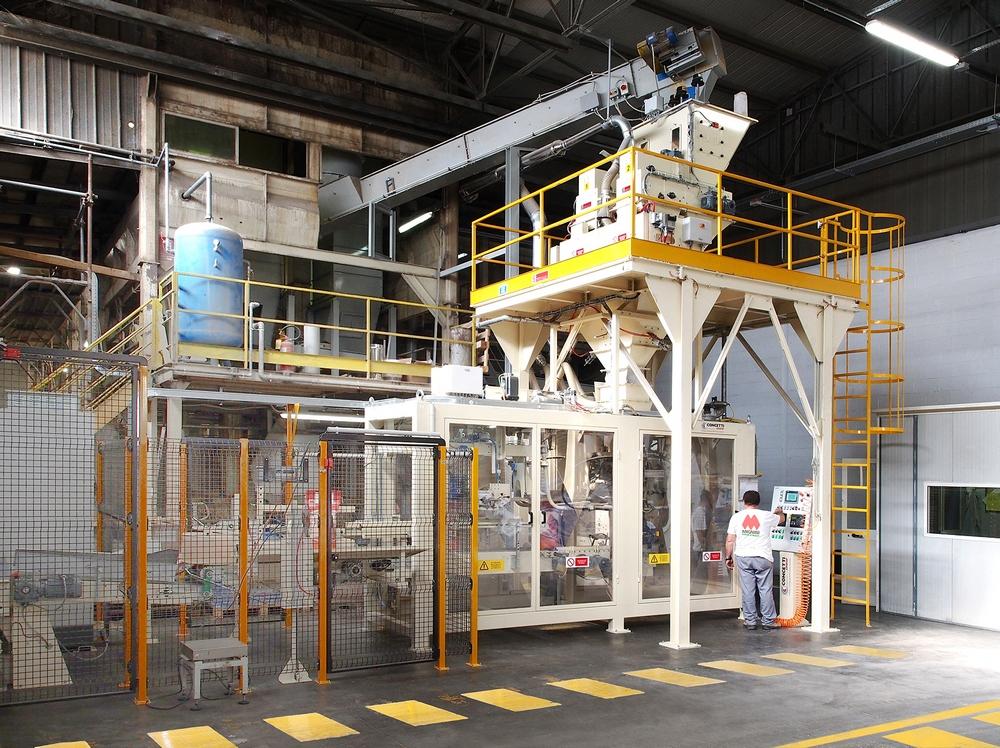 Concetti S.P.A, Bastia Umbra, Italy, has supplied two full line bagging lines for animal feed to Mignini&Petrini, an established famous name in the Italian food industry.
The main requirement for Mignini&Petrini in the modernisation of its packaging plants is to be increasingly competitive in the stockfeed market, not only providing retailers with improved packaging but also giving the end user higher quality products whilst paying special attention to the environment with a reduced use of plastics.
Concetti S.p.A has supplied the most innovative, efficient and cutting edge technologies available. Two fully automatic turnkey lines each consisting of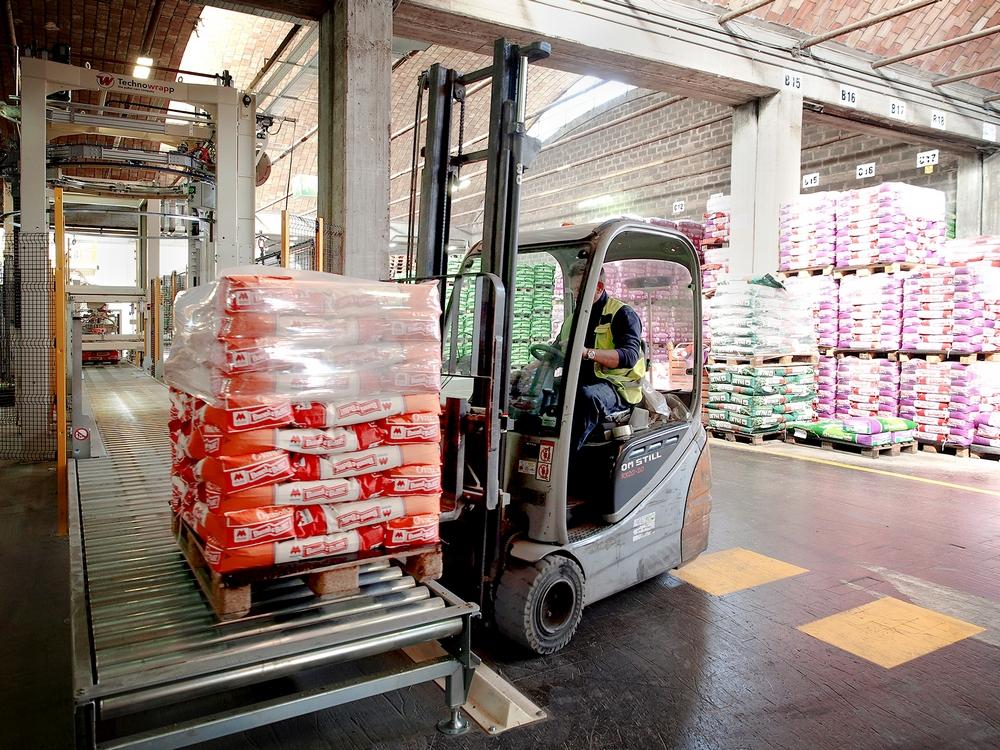 duplex "high precision" belt fed net weighers, bag filling machines model "IGF 1200", our four column robot palletising machine featuring bag pick, place, layer squaring and compression, and innovative ring type, power pre-stretch wrapper to wrap pallets in a more sustainable way with minimal film.
This type of high speed line, characterised with the ultimate flexibility, is the Concetti flagship feature, enabling customers to easily package – with just one plant – different kinds of animal feeds ranging from powders to cubes, as well as ground, flat, flaky and laminated products.
The capacity of the bagging machine is up to 1,200 bag/h when handling free flowing products in 25 kg bags. Stoppage time between products is reduced to a minimum by the Concetti fully automatic changeover feature taking just 60 seconds from the HMI keyboard.
The neat, square shape of the finished pallets are a result of the layer squaring and compression feature of the Concetti four-column palletiser that guarantees this packaging system remains one step ahead.
Info: salesitaly.com
---
Mignini&Petrini, storico marchio dell'industria mangimistica italiana, raddoppia. L'azienda si doterà di due nuove linee veloci completamente automatiche per il confezionamento dei mangimi per animali da reddito, progettate e fornite da Concetti S.P.A di Bastia Umbra. L'esigenza della Mignini&Petrini era quella di modernizzare gli impianti di confezionamento per essere sempre più competitiva sul mercato dell'alimentazione animale, garantendo ai propri rivenditori una confezione sempre migliore e al cliente finale un prodotto di qualità superiore, con un'attenzione speciale alla sostenibilità ambientale grazie all'impegno nella riduzione dell'utilizzo della plastica.
Concetti S.P.A, azienda produttrice da oltre 40 anni di impianti di pesatura, insacco e pallettizzazione per mangimi e petfood, tutti conformi al pacchetto di incentivi "Industria 4.0", ha messo a disposizione dell'industria umbra, le tecnologie più innovative ed efficienti disponibili nel settore della mangimistica. Si tratta di due sistemi "chiavi in mano" completamente automatici di quasi trenta metri di sviluppo ciascuno, composti da doppia bilancia a peso netto ad alta precisione con sistema di alimentazione a nastro, insaccatrice per sacchi a bocca aperta della serie "IGF 1200", palettizzatore robotizzato "a quattro colonne" e un innovativo fine linea per avvolgere le palette in maniera più sostenibile.
Questa tipologia di linea veloce è caratterizzata da una grande flessibilità, marchio di fabbrica di Concetti, che permette al cliente di gestire agilmente, con un solo impianto, tutti i diversi tipi di mangime per animali da reddito, dalle farine ai cubettati, passando per sbriciolati, schiacchiati, fioccati e laminati. I tempi di fermo macchina sono ridotti al minimo, grazie al cambio di formato completamente automatico che avviene in appena 60 secondi dal pannello di controllo.
La capacità produttiva dell'insaccatrice raggiunge i 1200 sacchi all'ora con i prodotti più scorrevoli in confezioni da 25 kg. Punto di forza dell'impianto è, infine, il pallettizzatore a quattro colonne, testa di serie della gamma robotizzata Concetti, dotato di una pinza che si muove lungo tre assi cartesiani e nel contempo ruota attorno al proprio asse verticale. Una macchina affascinante e robusta dall'elevata flessibilità che permette di manipolare sacchi con prodotti diversi e differenti livelli di riempimento, con la possibilità di ottenere anche la parziale sovrapposizione dei sacchi, conferendo grande stabilità al carico.
Innovative Fibcs filling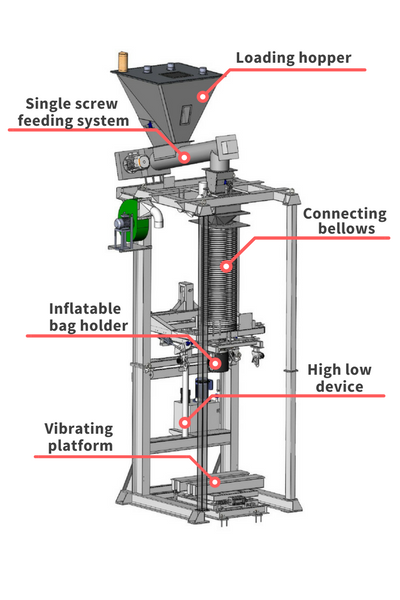 For many users, FIBCs (Flexible Intermediate Bulk Containers) represent a convenient method of handling and transporting a huge variety of different products from cereals to cement and plastic pellets to chemical powders. Every year millions of tonnes of products are transported in these highly cost effective containers with a capacity, usually between 500kg and 2000kg. Concetti in Perugia, Italy has a wide range of products for filling these FIBCs from simple gross weighing systems for applications around 20 big bags per hour.

From the feeding devices developed over many years to cope with different products to the expertise in dynamic weighing and pallet handling, Concetti has both the experience and resources to provide FIBC filling systems that are reliable as well as easy and safe to use. The entry-level machine is the simplex gross weigher where bag and product are weighed together. Depending on the product characteristics, be it granular free flowing, a fine powder or coarse and lumpy, the feeding system will employ a gravity, screw or belt type feed device.
Working Principles

The FIBC (or big bag) is loaded by hand and unloaded directly by pallet and forklift truck. Various features can be fitted depending on the type of FIBC, also known as bulk bag, used and these include inflatable bag holder, fan driven inflation systems, devices to assist the operator in attaching and automatically releasing the FIBC loops and so on. To this basic unit can be added conveying systems to allow the palletised FIBC to be moved to a convenient position after filling. Weighing is by precision load cells integrated into the frame and a controller allowing different set points to be programmed as required. If required an empty pallet dispenser is supplied. Outputs up to about 30 FIBCs per hour can be achieved with gross weighing.
For higher speeds up to 60 FIBCs per hour, net weighing is the answer with the weighment being dosed at the same time as the FIBC is being attached to the filling spout and loop supports by the operator. Again, the feeding device is properly matched to the product.
Of course, this product range, comprehensive as it is, does not truly demonstrate the innovative Concetti approach to every project and the way systems are adapted to the final user's precise needs. Examples of this are many and varied but perhaps here we can consider just a few.
Case studies
A customer with a particular material wanted to seal the FIBC automatically for operator safety and transport security so Concetti supplied a strapping system, integrated into the spout so that after filling, the neck of the internal liner was closed tightly with no operator action and sealed to prevent any escape of dust.
In another case, the client wanted to have up to three FIBCs stacked or overlaid on the same pallet to reduce handling operations and Concetti were happy to provide a system that allowed this to be done easily and safely.
Fine powders like cement, present particular difficulties when they are highly aerated during and after filling, potentially giving a highly unstable load. This usually limits the overall output while the powder naturally deaerates until the FIBC can be safely moved. To overcome this problem and to achieve speeds of 25 x 1500Kg FIBCs per hour on cement, Concetti designed a system to provide continuous support for the loops both at the filling point and during transfer to a second deaeration position where additional vibration helps to compact the load, quickly allowing the FIBC to be transported by forklift in complete safety without reducing output.
Concetti's growing reputation for quality and excellence in bulk materials handling is built on the ability to innovate, to constantly improve quality and reliability and to offer the highest level of world-wide customer service both before and after sale using a hot-line and PLC teleservice by modem.
Visit us at Powtech 2017
From September 26th to 28th, the latest Concetti equipment and innovations in packaging and filling will be presented at Powtech 2017, the leading trade fair for processing, analysis, and handling of powder and bulk solids, taking place in Nuremberg, Germany.
During Powtech 2017, Concetti will showcase the most innovative bagging solutions for the chemical, pharmaceutical, plastic, food-feed and building industries, designed for tomorrow's smart factory.
Particular attention will be given to the tubular Form, Fill & Seal "Continua", for handling extra-fine powders. This range of fully automatic equipment for hermetic and recyclable polyethylene sacks, from 10 to 50 kg, with speeds up to 800 bags/hour and the versatility to provide fast changeover between many different packaging formats. The waterproof, clean and squared bags can be palletised easily reducing logistics costs along the entire supply chain.
Concetti experts will be on hand to provide more information about adding value to your business by creating a custom solution for your process.
Be sure to visit us:
Hall 1, booth 1-612
Contact us at Diese E-Mail-Adresse ist vor Spambots geschützt! Zur Anzeige muss JavaScript eingeschaltet sein!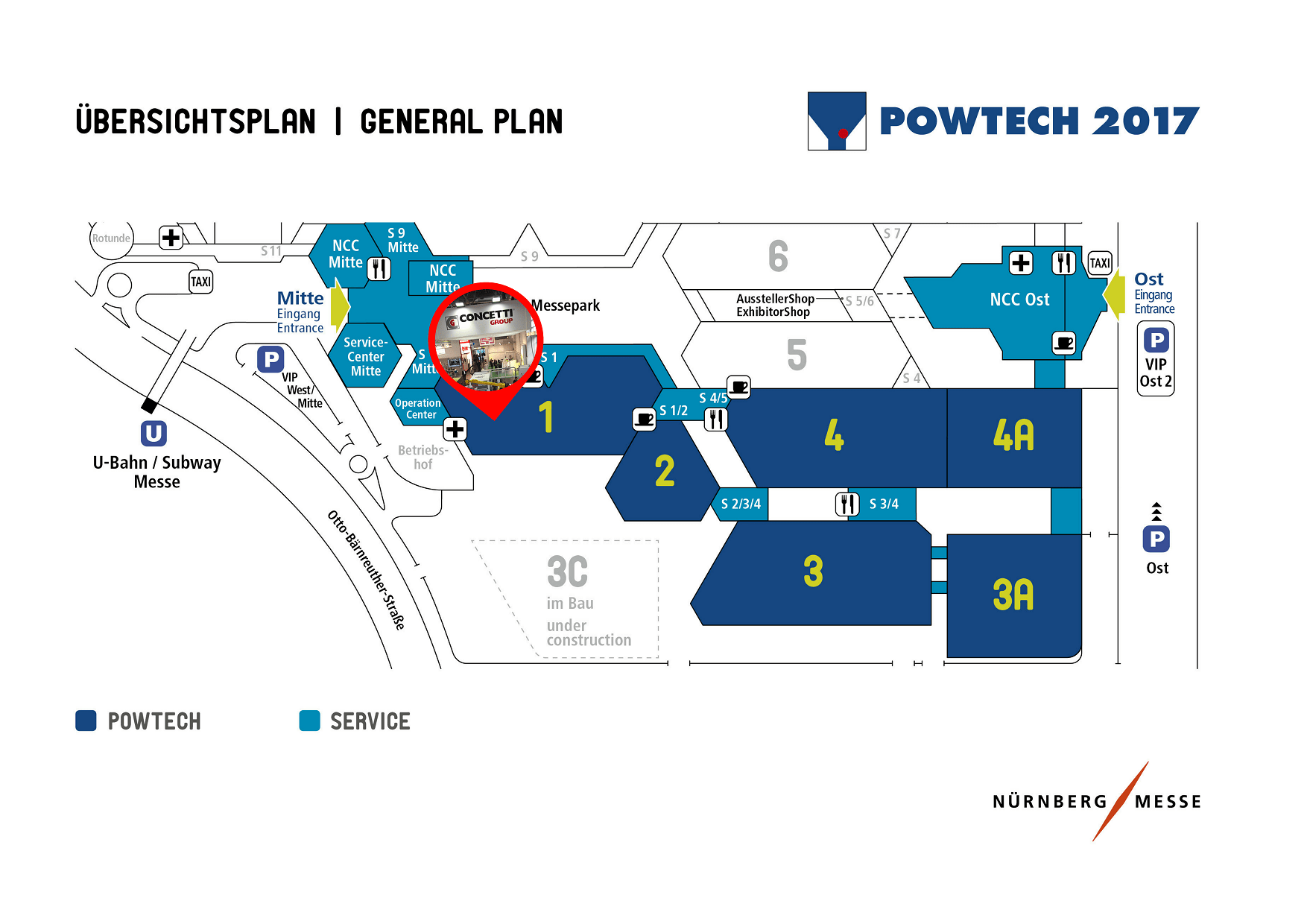 Industry 4.0 - Concetti launch new data acquisition software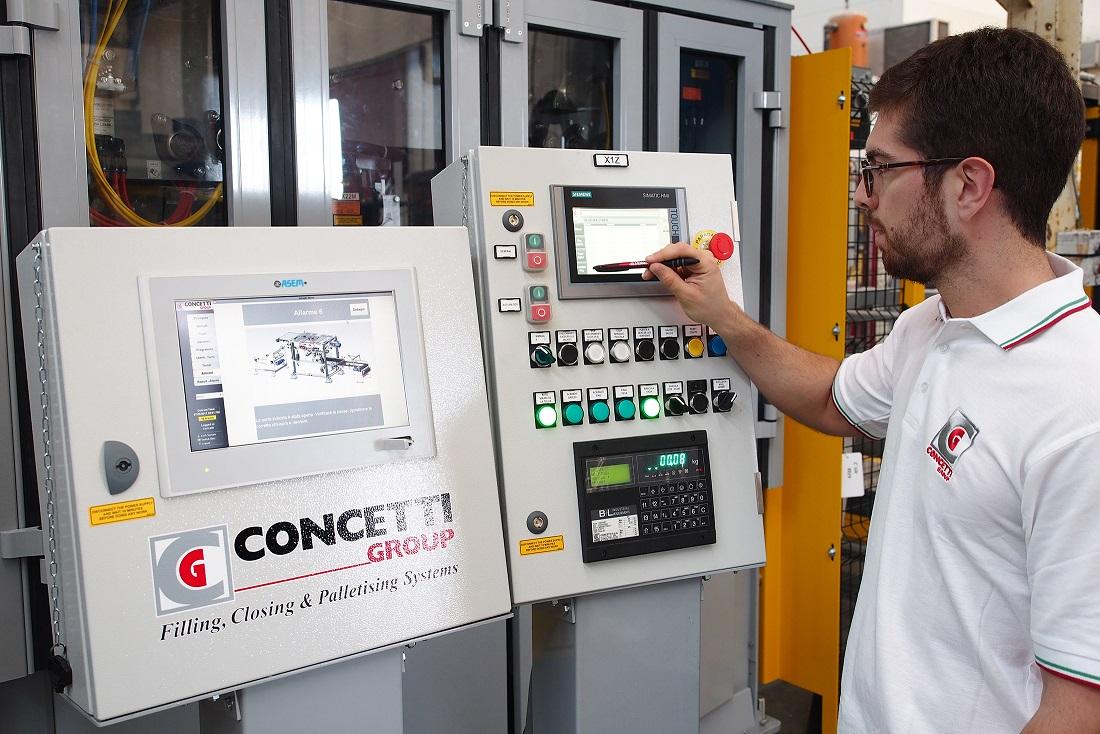 BASTIA UMBRA, ITALY - Improving productivity by monitoring the complete system in a facility will be easier in future, thanks to an innovative software solution that Concetti of Bastia Umbra, Italy - a provider of weighing, bagging and palletising systems - has implemented on one of its most popular machines, the Form, fill & seal for chemical granules.
This solution, for a smarter "Industry 4.0" factory, offers management the possibility to supervise and review runs of historical data, by checking the production trends and performance of the bagging machine. This powerful solution is helping to reduce plant shutdown times and increase competitiveness by reducing costs.
The system has been developed internally by Concetti engineers, starting with the versatile Ignition application software platform, that unifies all the major software layers in today's manufacturing facilities - SCADA, MES, HMI - into a single solution to record, monitor and analyze the data provided by Concetti equipment, divided by number of bags, production shifts, operators, time intervals, alarm history and so on.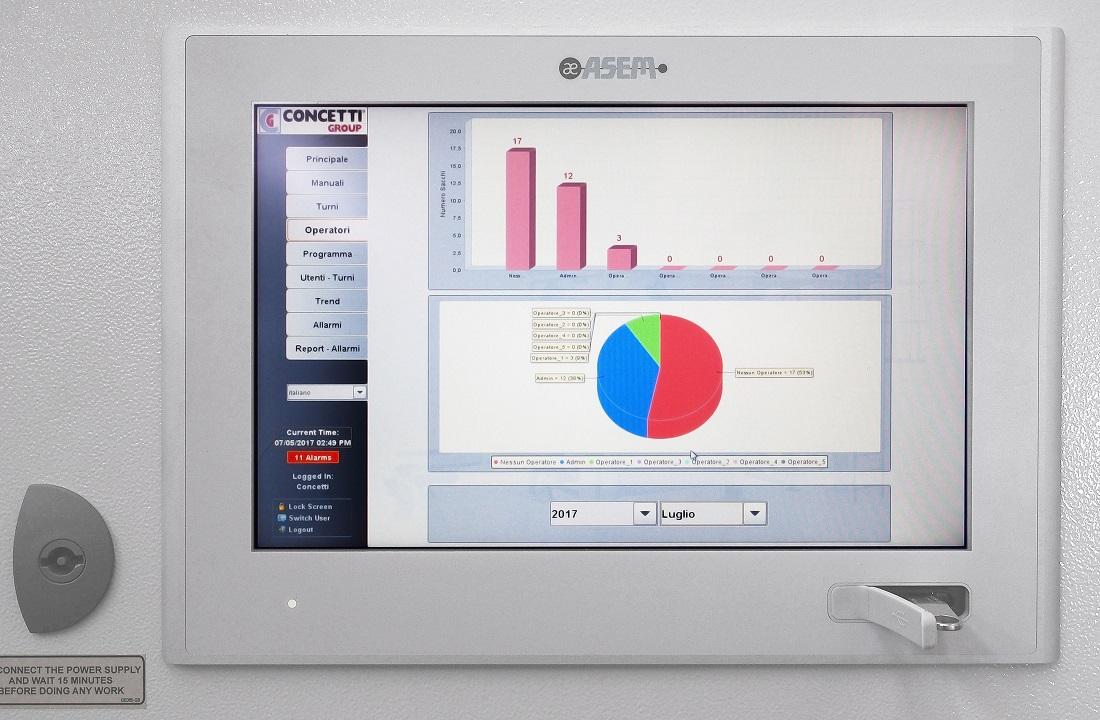 Moreover, the software can acquire data from several Concetti machines, providing a complete view of the production system over time and uses analysis tools to make the process more efficient.
It is a pc panel with a touchscreen interface that combines user-friendliness and the ability to track and display data collected by management in real-time.
The Data Acquisition Software utilizes the industry's most up-to-date technologies and can be fully customized and installed on any type of machine manufactured by Concetti, providing analysis to improve resource management and plant productivity, reduce costs and increase competitiveness.
All machines made by Concetti can also be integrated, interconnected and monitored remotely. For these features, Concetti has received Bureau Veritas's "Industry 4.0 ready" attestation of conformity, for the benefits provided by the 2017 Stability Law, also known in Italy as "Industry 4.0 for packaging machines".
B.V. - Diese E-Mail-Adresse ist vor Spambots geschützt! Zur Anzeige muss JavaScript eingeschaltet sein!
Meet our team at Heavy Duty Sacks 2017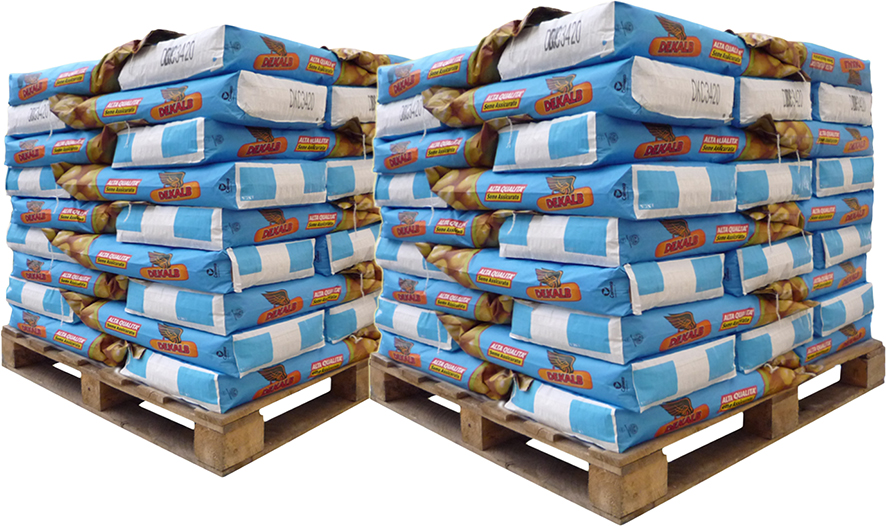 Concetti will take part in Heavy Duty Sacks, the international conference and exihibition on industrial bags and sacks, taking place 27-28 June 2017 at Maritim Hotel, Cologne (Germany).
On June 27th, Trevor Mitford, technical sales manager at Concetti, will speak on the topic "Bagging automation as a way to respond to multiple material, size and bag type requirements".
Concetti specialise in complete bag filling lines, almost all of them fully automatic. Each packaging line is customized to the application. The Concetti's challenge is to bag even the most difficult powder and bulk products.
AMI's Heavy Duty Sacks 2017 is a brand new forum where all parts of the industrial bag and sack supply chain will meet to discuss key trends and developments influencing market growth and profitability.
Downloand the programme
SOLIDS 2018
Dortmund (D) November 7-8, 2018